Released in 1980, the Sinclair ZX80 is the first home computer developed by Sinclair (known as Science of Cambridge at the time).
Very much a personal goal of Sir Clive Sinclair, at the time his goal was to launch the first home computer under £100. You could buy the ZX80 in either kit form or prebuilt, this was typical of the time.
With a modest 1k of RAM and utilising the Zilog Z80 CPU, the ZX80 computer was a fantastic starting point for enthusiasts and newcomers alike. The ZX80 is many people's first experience of computing at home. It is difficult to comprehend today how anybody was able to do anything with these modest tech specs, but back in 1980, it was a respectable specification, especially at a low cost.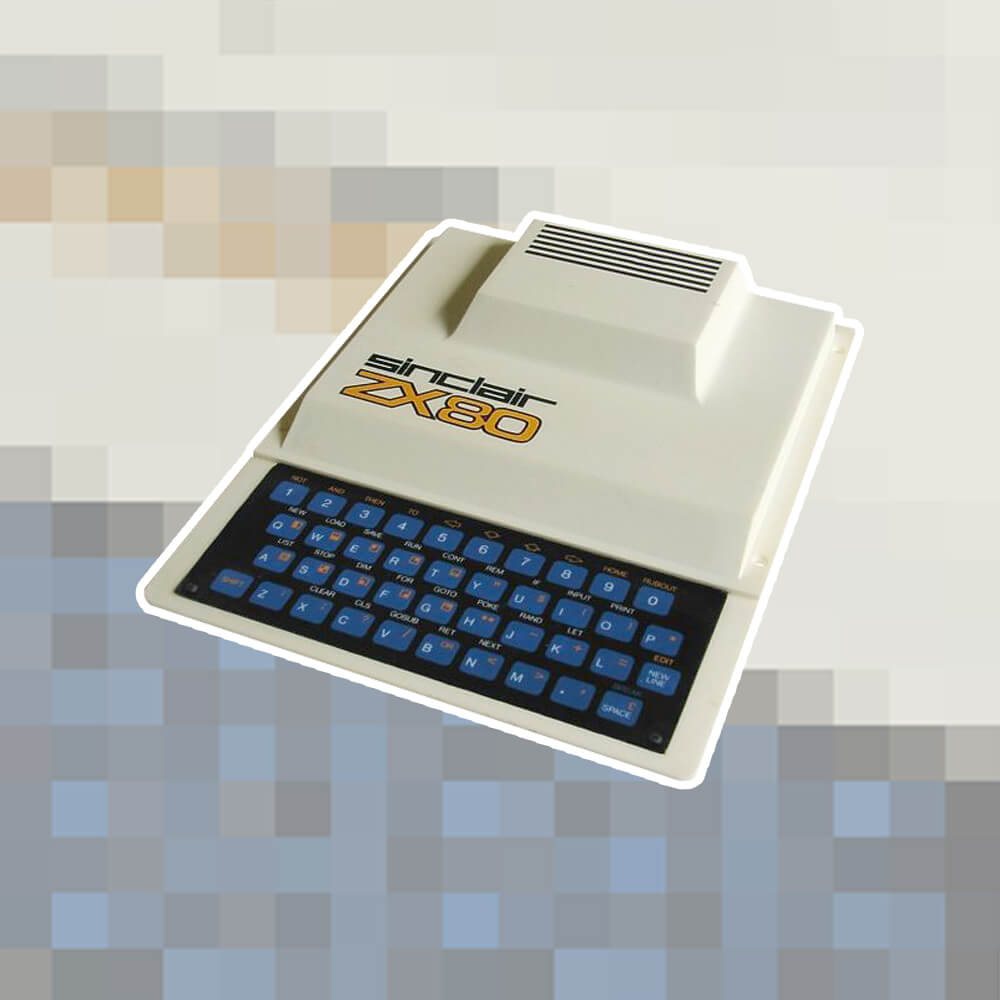 Sinclair, who himself was a well-versed writer, delivered excellent documentation with the ZX80. This received wide praise as it provided beginners with an excellent introduction to computing at home, rather than attending classes.
The build of the ZX80 computer was basic and suffered from a number of issues including reliability, overheating and durability. The keyboard is membrane-based, meaning the user did not have much feeling in terms of a robust, responsive keyboard action but was something that saved on cost, a crucial point in the marketing of the Sinclair ZX80 computer.
Another quirk of the system was the way the ZX80 handled its graphics and video output. Due to the way visuals are handled by the main Z80 processor, it meant that any keypress was subject to an interrupt which meant a screen refresh. So literally anytime a key was pressed on the keyboard, the screen flashed whilst it refreshes. The audio was also non-existent,
The Sinclair ZX80 is estimated to have sold in the region of 50,000 units, which set the wheels in motion for Sir Clive to plough on with further development and improvements for a follow-up system.
The ZX80 was discontinued in 1981 when it was succeeded by the ZX81.
Sinclair ZX80 Emulator
ZX80 Emulators are pretty easy to recommend since there are not a huge amount of options available. First of all, we would recommend EightyOne, this is a ZX80 Emulator (as well as emulating a number of other Z80 processor-based computers), it is long established and has remained one of the go-to emulators for the ZX80.
Another ZX80 Emulator option is to use the ZX81 (EightyOne) core in RetroArch. This is a libretro port of the EighyOne emulator above. This core emulates a range of systems including the ZX80.
Simply download and install RetroArch and then download the 'ZX81 (EightyOne)' core to get up and running.
Find A Sinclair ZX80 For Sale
With the ZX80 now being over 40 years old, it can be hard to find many pristine examples. But don't give up just yet! However, it is still possible to find a quality Sinclair ZX80 for sale, just be prepared for a potentially hefty asking price!
You will be hard pushed to find many examples on local Facebook groups or the likes of Gumtree in the UK, so eBay remains the place to be for increasingly rare computers like the ZX80.
A lifelong avid gamer and computing enthusiast, Matt has decades of Retro Gaming experience. Now over 40 years old, Matt now even considers himself retro, but fortunately, nobody has developed a Matt emulator (not yet at least!).