Finding the best GameCube emulator is actually pretty easy since there is really only one main choice to consider, Dolphin Emulator. Dolphin Emulator actually not only emulates the Nintendo GameCube, but also the Nintendo Wii, and does an excellent job for both systems.
Dolphin is available on Windows, Mac, Linux as well as Android and performs really well on each of these platforms.
Best GameCube Emulator For PC, Mac & Linux
As mentioned above, Dolphin is without doubt one of the best emulators for PC, Mac & Linux, to play GameCube games.
Dolphin excels at bringing your favourite GameCube games into the present with excellent upscaling, anti-aliasing and filter processing built in. You can even currently upscale your games up to 5k resolution (although don't expect great performance unless you have a beast of a PC!).
Whilst comprehensive, Dolphin is very easy to use in terms of its layout and basic functionality. There is a lot to experiment with though, in terms of improving the graphical fidelity of games, this is all part of the fun, tweaking until you get your GameCube games looking super in their upscaled glory!
Dolphin is free to use and without doubt, is one of the most developed and supported emulators out there.
To help get you up and running, also check out our guide on how to use Dolphin GameCube emulator.
Dolphin Emulator Features Include:-
Nintendo GameCube & Wii Emulation
Clean UI To Manage Game Collections
Save States
Comprehensive Video Capture Functionality
Built In Cheat Options
Customisable UI
Detailed Emulation Settings
Wii USB Sensor Bar Functionality
Memory Card Emulation
Upscale up to 5k resolution
Anti-Aliasing, Post Processing & Filter Settings
Stereoscopic 3D Mode
Utilise Original Controllers or Emulate Them With Your Own Bluetooth/Wireless Controllers
Best GameCube Emulator For Android
Whilst not as fully realised as its PC counterpart, Dolphin Emulator on Android still offers an incredible amount of quality, making Dolphin easily the best GameCube emulator for Android.
Dolphin Emulator on Android is pretty straightforward to use and still offers a decent amount of configuration. One of the key things is the graphics options such as resolution upscaling, anti-aliasing and post-processing filters.
Not many Android devices will cope with everything ramped up to full of course, so take some time to experiment with the graphics settings to see what works best for your device. Although on most modern Android devices, the out-of-the-box settings tend to work reasonably well.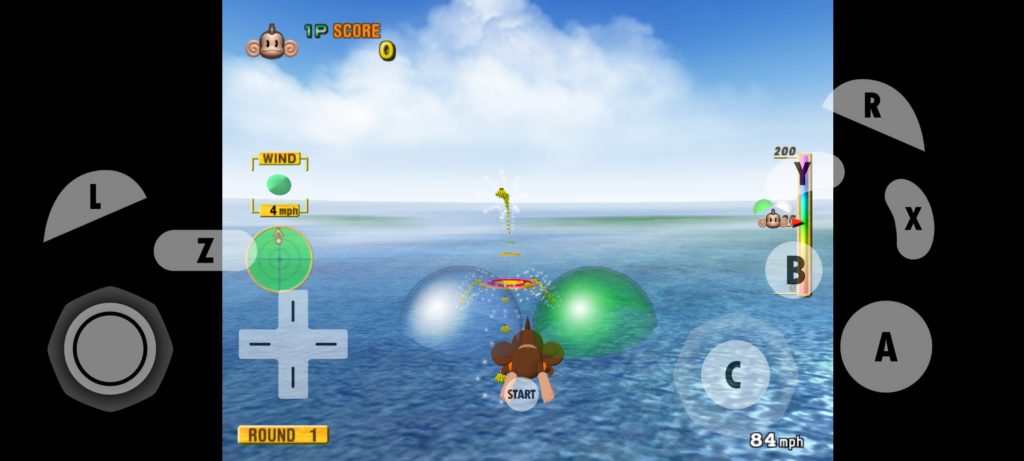 Dolphin Emulator Android Features Include:-
Nintendo GameCube & Wii Emulation
Save States
Anti-Aliasing, Post Processing & Filter Settings
Memory Card Emulation
Easy To Use UI
Best RetroArch GameCube Core
Dolphin has also found its way into RetroArch with its own core. This is now in a really decent form and is of great relief to fans of RetroArch who have been waiting to easily access their GameCube games from their RetroArch set-up.
As with every other version of Dolphin, it works really well out of the box as soon as you fire up a game after installing the Dolphin core.
The Dolphin RetroArch core has all of the important options available whereas improving the graphics of your GameCube games includes resolution upscaling, anti-aliasing as well as being able to benefit from the usual RetroArch features such as CRT shaders, etc.
A perfect way to get GameCube games added to all your other favourite emulators in RetroArch.
The GameCube has ended up being one of Nintendo's most revered consoles and really did pack a big punch regardless of its small form factor, especially when you consider it was up against the PS2 and the OG Xbox, which were huge in size! Check out the best PS2 emulator and see for yourself the differences in the games on both systems.
What Nintendo did next though was revolutionary. It was the family-friendly Wii of course! We naturally can recommend the best Wii emulator for you as well.
It is interesting comparing the quality of the ports between the GameCube and these systems, as well as look back at the Dreamcast too in comparison with the GameCube, as it is where Sega ended up bringing many of its IPs when the Dreamcast ended its retail life. Take a look at the best Dreamcast emulator to see for yourself where many of the GameCube Sega ports originated from.
We also have recommendations for systems across all the different console generations, so read our comprehensive emulator guide to find out more.
A lifelong avid gamer and computing enthusiast, Matt has decades of Retro Gaming experience. Now over 40 years old, Matt now even considers himself retro, but fortunately, nobody has developed a Matt emulator (not yet at least!).