The Neo Geo may have been an expensive console, but it was also home to some of the greatest arcade-style games of its time. With its powerful hardware, the Neo Geo was able to deliver arcade-quality graphics and sound to your living room.
While the console and its games may have been out of reach for many gamers due to their high price tag, those who were lucky enough to own a Neo Geo were treated to some of the most memorable gaming experiences of the 1990s.
We take a look at some of the best Neo Geo games ever made and why they're still worth playing today, even if you have to pay a pretty penny to get your hands on them.
Neo Turf Masters
Neo Turf Masters, a classic golf game on Neo Geo, is a blast. Although golf games are an acquired taste, Neo Turf Masters offers quick 20-minute rounds that keep you coming back for more.
The game's charming Japanese arcade style, excellent sound, and artwork add to its simplicity. You'll have plenty of fun with six unique characters to choose from, each with its own skill strengths, and four available courses.
In Stroke play, you participate in the final day of a tournament, aiming to ace as many holes as possible to climb up the leaderboard. But be warned, any dropped shots below par will see your credits drop, and if you fall below zero, you'll need to use a continue to carry on.
Neo Turf Masters uses the classic power meter, and with the easy-to-use draw and fade shots, all you need to do is select your club, set your shot angle, and let it rip. Anyone can play this game and have fun doing it!
Blazing Star
Blazing Star is a visually stunning horizontal shooter game for Neo-Geo, with its CG and hand-drawn assets, boss battles, and gameplay that feels less chaotic than fellow Neo Geo shooter, Pulstar.
In Blazing Star, you get to choose from five different characters and ships, each with its own unique strength and weaknesses that will affect the gameplay difficulty and fit your play style. There are five LUCKY panels in each stage to collect, and you can also collect normal score panels and event icons to boost your score.
While the game is visually impressive, the Engrish text, including phrases like "Hey Poor Player!" makes for a humorous experience. Blazing Star was a critical success upon its arcade debut, but its scarcity on the home market means few people played it until its rerelease on modern systems.
Windjammers
Windjammers is a unique sports-like game for the Neo-Geo that combines elements from traditional fighters with a hybrid tennis/Pong-type gameplay.
The visuals are colorful and provide a good atmosphere with well-animated crowds and other little details. The gameplay is fast-paced and strategic, with you trying to throw a Frisbee past your opponent to score points by hitting targets on the court.
The game offers three types of throws, including a standard throw and a loft, which can lead to super throws that are difficult to stop. Defending your goal is just as important as scoring, with two basic defensive moves: dash and block.
Windjammers offers six different characters, each with different balances of speed and power, and the game's AI provides a challenge for single-player mode. However, the game truly shines in two-player mode, with enough depth and strategy to keep you wanting to play "just one more round".
Neo Bomberman
Neo Bomberman is a classic addition to the Bomberman series, offering simple and addictive gameplay that has kept fans coming back for more for decades. You control Bomberman, navigating through a maze to strategically plant bombs and defeat enemies while avoiding being blown up themselves.
The game's controls are sharp and responsive, allowing you to move and plant bombs with ease. Power-ups are plentiful and useful, with a variety of options such as increased bomb placement or a bigger explosion reach to make gameplay even more exciting.
While the game does have a story involving aliens and kidnapped friends, the real fun lies in blowing things up and competing against others in the Battle mode. You can go head-to-head against a friend or up to three computer opponents for some four-way mayhem, with no story or frills to distract from the pure gameplay experience.
Overall, Neo Bomberman is a must-play for fans of the Bomberman series, and the Battle mode adds extra replay value to an already addictive game.
2020 Super Baseball
Super Baseball 2020 is a unique baseball game with a futuristic twist.
The game features both human and robot players, with all characters equipped with advanced technology to enhance their abilities on the field. The game follows the basic rules of baseball, but with some upgrades and differences to match the futuristic setting.
For example, the money system in Super Baseball 2020 adds an interesting layer of strategy to the game. When you perform well, you earn cash that can be spent on power-ups to enhance your abilities. These power-ups can make your swings more powerful, make your pitches faster, and more.
However, there is also a downside to this system. When you perform poorly, you lose cash, making it harder to buy those power-ups. In addition, the head judge can randomly place mines on the field, which can be a nuisance, but ultimately doesn't add much to the gameplay.
Overall, Super Baseball 2020 is a decent baseball game with some interesting mechanics. If you're a fan of the genre and looking for something a little different, it's worth checking out.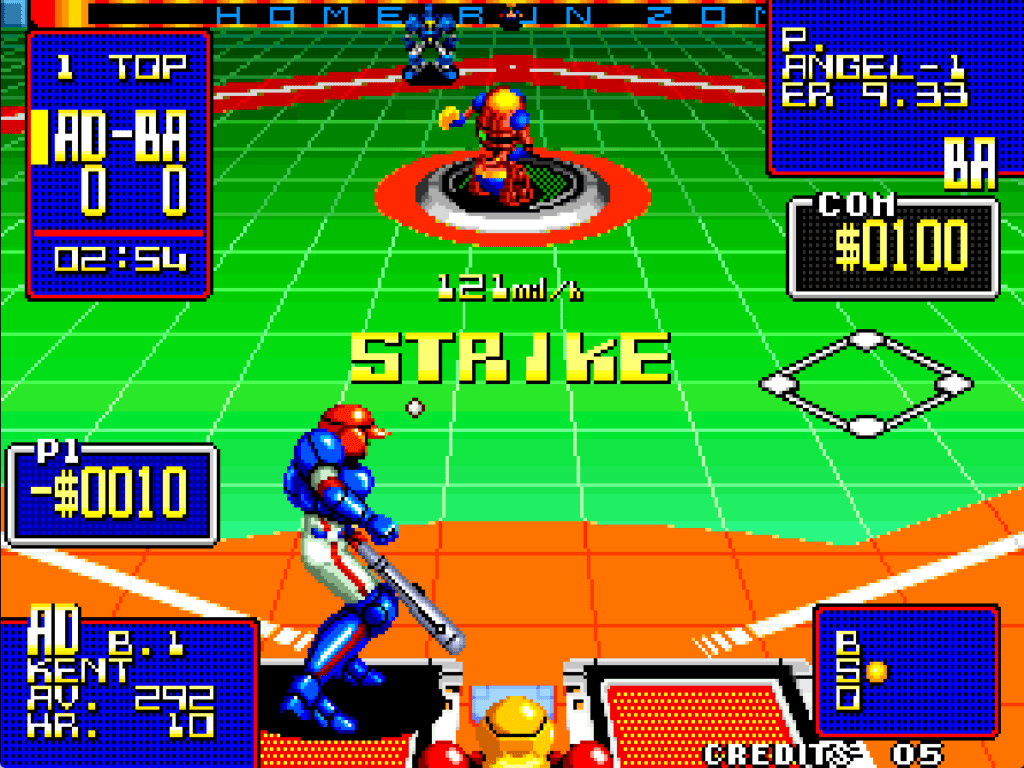 Metal Slug 3
Metal Slug 3 is a must-play for any fan of run and gun games. The gameplay is fast-paced and challenging, with the same addictive mechanics as previous Metal Slug titles. The addition of the branching path system adds an extra layer of replayability, as each path offers a different challenge, you can choose your own adventure.
The game's graphics are outstanding, with detailed and fluid animations. The scenery is destructible, and the game takes full advantage of this feature to hide power-ups and secrets.
The soundtrack is also top-notch, with a mix of catchy and adrenaline-pumping tracks that perfectly complement the action.
Overall, Metal Slug 3 is a standout title in the series, with its challenging gameplay, stunning graphics, and a killer soundtrack. If you haven't played it yet, you're missing out on one of the best run and gun games out there.
The Last Blade
The Last Blade is a 2D weapons-based fighting game set in Japan during the Bakumatsu era, incorporating elements of Japanese mythology.
The game features two selectable fighting styles, Speed mode and Power mode, each with its unique combo system and a defensive technique called the "deflect" system. The gameplay is well-balanced, and the cast of characters is entertaining to play with, offering a good range of fighting options.
The Last Blade is often compared to SNK's Samurai Shodown series, and it takes over several elements from the cancelled Technōs/Face's Dragon's Heaven game. In Power mode, you can inflict a substantial amount of damage by executing Super Desperation Moves, which require a full power bar and a flashing life bar. Power mode also allows you to perform Super Cancels, which enable them to cancel a special move into a desperation/super move.
The Last Blade is an excellent fighting game, and while its sequel may have some extra characters and an EX mode, this first game has a well-balanced fighter lineup that makes it a great pick-up amongst a huge swatch of Neo Geo fighting games.
NAM-1975
NAM-1975 may not be the best game on the Neo Geo, but it certainly has its own charm. The shooting gallery-style gameplay is simple and enjoyable, and the addition of different weapons and power-ups helps keep things interesting. The difficulty level is high, but it's still manageable with some practice.
One of the standout features of NAM-1975 is its atmosphere. The game does a great job of capturing the feel of the Vietnam War, with its gritty visuals and intense soundtrack. The boss battles are particularly memorable, with each one offering a unique challenge that requires quick reflexes and strategic thinking.
While it may not be the most innovative game on the Neo Geo, NAM-1975 is still a fun and engaging shooter that's worth checking out for fans of the genre. Its status as a launch title for the system also gives it historical significance, making it a must-play for anyone interested in the console's history or Operation Wolf fans who are looking for a slightly different experience.
Neo Drift Out: New Technology
Neo Drift Out: New Technology is a 1996 rallying video game developed by Visco Corporation for the Neo Geo and Neo Geo CD.
As the fourth title in the Drift Out series, it features an against the clock arcade-style rallying game with an isometric view. You choose between three Japanese rally-spec vehicles – the Mitsubishi Lancer, the Subaru Impreza, and the Toyota Celica – which vary with their Speed, Control, and Body stats.
Your overall time is hindered by barrels, puddles, slippery ice, cones, and other obstacles that are in your path as you race along. Each racing stage requires you to reach the finish line in the shortest time possible, If the clock hits zero, you lose!
A challenging part of the game is the super zoomed-in camera, making it quite tricky to see what lies ahead. So track memorisation plays a key part in progressing through the game. Some may find this frustrating but wasn't uncommon with 90s top-down racing games, so just suck it up and try harder!
The King of Fighters '98: The Slugfest
The King of Fighters '98 (KOF '98) has earned substantial acclaim among 2D fighting game enthusiasts, rivaling Capcom's genre-defining Street Fighter series. It boasts striking visuals, an extensive character roster, and a finely-tuned fighting engine.
The game features team-based battles instead of individual combatants, with the next fighter stepping in as their predecessor is defeated.
KOF '98 diverges from the series' narrative and adopts a "Dream Match" concept, celebrating the franchise's history. Almost every character from prior installments is available, though some exceptions exist. The vast array of characters ensures prolonged engagement for dedicated players who enjoy mastering each of the fighter's skillsets.
Visually, KOF '98 delivers an impressive experience despite low-resolution graphics. Characters and backgrounds are both visually striking and fluidly animated, accompanied by an outstanding soundtrack.
KOF'98 stands out amongst the wide range of fighting games on the Neo Geo, an absolute classic.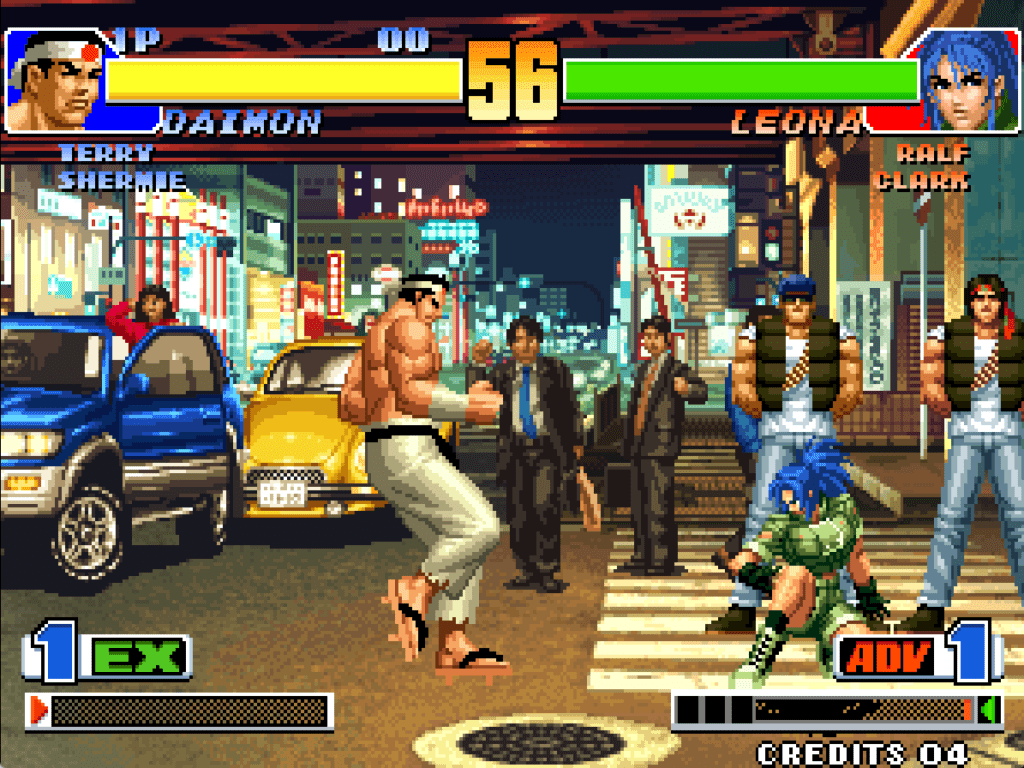 Puzzle Bobble
Puzzle Bobble, also known as Bust-a-Move, is a 1994 tile-matching puzzle arcade game by Taito. The game's objective is to clear all colored bubbles from the rectangular playing arena without any crossing the bottom line.
Clearing bubbles requires matching three or more identically-colored bubbles, which then get removed from the play area, earning points.
Throughout the game, the arena's ceiling drops, along with the attached bubbles, after a certain number of shots. This interval depends on the remaining bubble colors. As the bubbles approach the screen's bottom, the music speeds up, adding to the pressure!
Like all classic puzzle games, the gameplay is easy to learn but challenging to master, involving matching three touching bubbles to burst them. Bright colors, cute characters, and clearly defined targets characterize the graphics.
The catchy tunes and sound effects complement the gameplay perfectly, all whilst looking super cute!
Aero Fighters 2
Aero Fighters 2 is a vertical-scrolling shoot 'em up game developed by Video System and released in 1994.
The game consists of ten stages, with a more difficult loop after clearing all of them. Stages three and seven are low-risk bonus levels, where waves of invaders swoop in without firing back, allowing you to focus on collecting score bonuses.
Aero Fighters 2 is a super enjoyable shoot 'em up, with various aerial and ground foes to battle, such as tanks, turrets, battleships, and submarines. Boss battles are entertaining and challenging, with limited room to dodge enemy fire.
The 1-credit Hi Score and 5-minute Caravan modes offer longer-term challenges and online leaderboard competition. Two-player mode is also engaging, as each of you cooperates to defeat enemies while competing for the highest score.
Aero Fighters 2 is certainly a fun and quirky shoot 'em up with a nice variety of quirky characters, entertaining gameplay, and replay value.
The Super Spy
The Super Spy is a first-person shooter and beat 'em up game with action role-playing elements released by SNK in 1990.
The game features an innovative method for navigating levels, giving it a "3D" feel and look. You are able to sidestep left or right, move forward through doorways, elevators, and corridors, and backtrack when necessary.
You start with a pistol, a knife, and unarmed attacks. The knife loses power as it is used, and occasionally, a machine gun can be obtained. When ammunition runs out, the game focuses on unarmed combat, which is where The Super Spy's charm lies.
The unarmed attack system in the game is enjoyable and offers various moves, such as punches, kicks, right hooks, knee attacks, combo punches, and blocking. You can also duck and sidestep enemies' attacks. The fighting system is entertaining and provides a reason to keep playing the game.
The Super Spy features super cheesy but fun dialogue and a simple storyline that fits the game well. Though its replay value may be limited, the game stands out as one of the most distinctive titles on the Neo Geo platform.
Waku Waku 7
Waku Waku 7 is a 2D fighting game developed and published by Sunsoft in 1996, initially as an arcade game for the Neo Geo MVS system. The game features a unique and quirky roster of nine characters, each parodying a well-known character from another game and offering a different playstyle.
The gameplay is intense and frantic, with characters being thrown across the screen and prone bodies taking hits until they get back on their feet.
Special moves come in three types, with the most devastating being the "Harahara Attack," which is similar to a "Super" special in Street Fighter. The game has a diverse cast of characters, each possessing a unique charm, but with only nine characters (two of which are limited to versus mode), the game's longevity might be affected.
Waku Waku 7 is a breath of fresh air for those who are tired of the abundance of similar fighting games on the Neo Geo. It's vibrant characters and energetic action make it worth checking out, even for those who are not usually fans of one-on-one brawlers.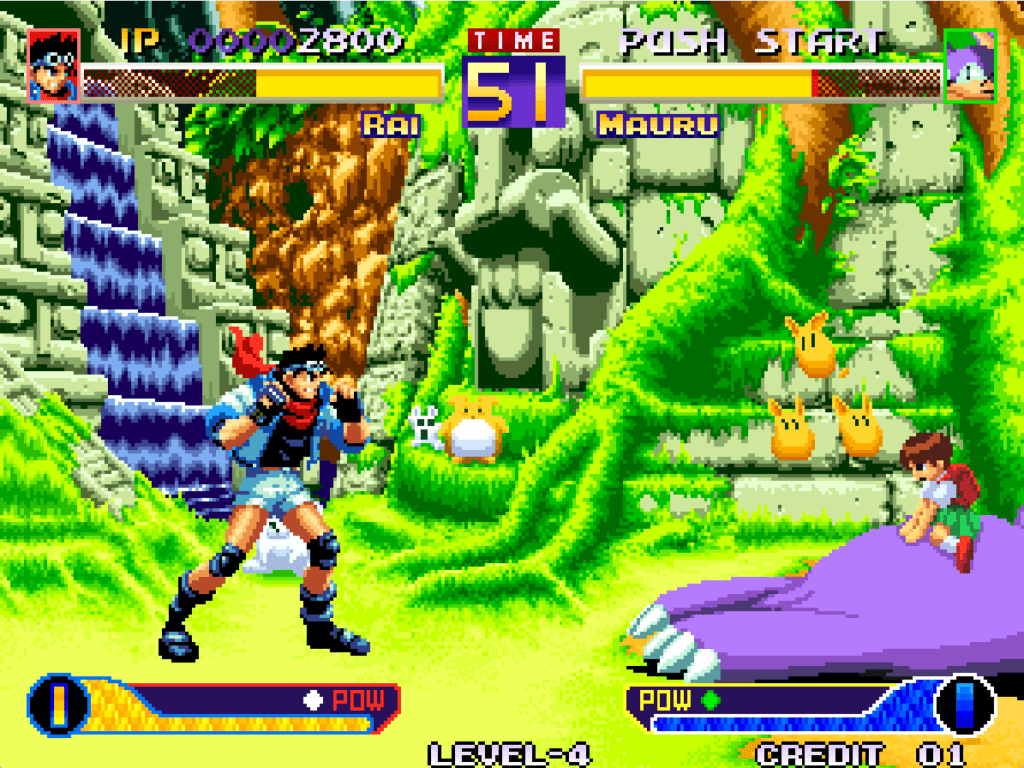 Super Sidekicks 3: The Next Glory
Super Sidekicks 3: The Next Glory was a fantastic arcade football game that, despite its simplicity, managed to capture the essence of football in an over-the-top, fun and colorful way.
One of the game's strengths was a large number of teams available, with 48 teams split into six regions, each with its own unique style of play. The game also had a great sense of dynamism, with injuries, goalscorers, and world stats that made each playthrough feel different.
Graphics are bright and colorful, with large sprites and a camera angle that made it feel unique compared to other football games of the time. The music is also a standout feature, with a thumping main tune and goal tunes that get you pumped up!
Despite its flaws, such as the difficult-to-control goalkeepers, Super Sidekicks 3: The Next Glory remains a classic arcade football game that is worth checking out for anyone who enjoys over-the-top, fast-paced football action.
Summary
While the Neo Geo console and its games may have been expensive back when released (and even more so now!), but there's no denying that they offered a unique and unforgettable arcade gaming experience.
From classic sports titles such as Neo Turf Masters and Super Sidekicks 3: The Next Glory, to beloved arcade-style games like Windjammers and Blazing Star, to intense fighting games like The Last Blade and Waku Waku 7, the Neo Geo library was a godsend for arcade fans.
If buying original Neo Geo AES hardware and cartridges is slightly out of your price range, then check out our guide on the best Neo Geo emulators so you can enjoy some of these classics via emulation.
A lifelong avid gamer and computing enthusiast, Matt has decades of Retro Gaming experience. Now over 40 years old, Matt now even considers himself retro, but fortunately, nobody has developed a Matt emulator (not yet at least!).