The good news, in particular for retro gaming fans, emulation is in its finest health and accessible as it has ever been. Read on to find out our recommendations for the best emulators for PC.
The PC has the most emulators available out of any platform, with literally hundreds being developed over decades. But what state is emulation for the PC in now?
One of the great things about owning a PC is the flexibility it offers in terms of the number of applications you can use.
Unlike using devices such as iPhones, iPads and to a certain extent, Mac devices, PCs allow far more accessibility when it comes to emulators in terms of both the number of emulators available as well as the ease of installation and set up.
Whether you are wanting to play some classic NES games, relive some 1980s arcade memories or dig out the old Wiimotes from storage for some Wii bowling, you'll be excited to learn that all of this is possible on the PC with emulators.
Dolphin – Nintendo GameCube/Wii
Dolphin is the only emulator to consider when you are looking to play Nintendo GameCube or Wii games on the PC.
Its first ever release was back in 2003 when it was launched as an experimental GameCube emulator, just to boot and play commercial games and has made huge strides every year since this time,
Dolphin does a fantastic job of modernising GameCube & Wii games in terms of upscaling and visual post-processing effects to get your favourite games looking super crisp at over 4K resolutions!
It is one of the most accessible emulators there too, with really not much of a learning curve in place. The Dolphin interface is naturally intuitive and the settings available are fairly self-explanatory.
To help you get up and running, check out our how to use Dolphin GameCube emulator guide.
One of the best features in Dolphin is the ability to use original GameCube and Wii controllers. Simply add either a GameCube USB adapter for GameCube controllers or a USB Wii sensor bar which enables you to use original Wii remotes on your PC, and then you are ready to go! 4K Wii bowling anyone?
Redream – Sega Dreamcast
Whilst reasonably popular when it launched, unfortunately, the Sega Dreamcast was just not enough to convince fans of the PS1 to buy their new super console, with many opting to wait for the PS2 release.
That doesn't mean to say though that the Dreamcast does not have its fans, in fact, it's probably more revered by Sega and arcade fans than ever thanks to emulators such as Redream.
Redream is the easiest-to-use Sega Dreamcast emulator available. The PC version is simply a single packaged file, which means no need to install it. Simply download it, boot up Redream and you are ready to go!
It boasts a high compatibility rate of over 96%, which means there are very few games that have difficulty running on Redream.
The best news is that Redream is completely free to use, with a premium version being available which just gives you a few additional quality of life features such as more save state slots and increased upscaling resolutions. It's no wonder it is at the top of our list when it comes to the best Dreamcast emulator.
FS-UAE – Commodore Amiga
The Commodore Amiga was at its most popular in Europe during the 80s and 90s, but was, and still is, a hugely loved machine all over the world.
Typically, Amiga emulation has always been a little bit tricky and scares off casual users. This is where FS-UAE can step in and help. FS-UAE is one of the best PC emulators. It brings the power of WinUAE, but is packaged in a much easier-to-use interface. In fact, we recommend FS-UAE as the best Amiga emulator for ease of use.
One of the best features in FS-UAE is the big screen mode and integration with the OpenRetro Game Database, resulting in an excellent carousel you can flick through your game collection by scrolling left and right. Perfect for those who love to play their Amiga games from a couch!
FS-UAE comes complete with WHDLoad support, meaning you can load games from a single file as if it was installed on a hard drive, and not have to contend with virtually swapping disk images – A big help for games such as Monkey Island 2 and Beneath A Steel Sky.
MGBA – Nintendo Game Boy Advance
mGBA first began life in 2012, when development commenced as a GBA emulator written in JavaScript. Since then mGBA has evolved into our go-to emulator for Game Boy Advance as well as being one of the best emulators for PC full stop.
With over 1,500 games available for the Game Boy Advance across multiple regions, you can rely on mGBA to play all regional titles as well as any homebrew titles.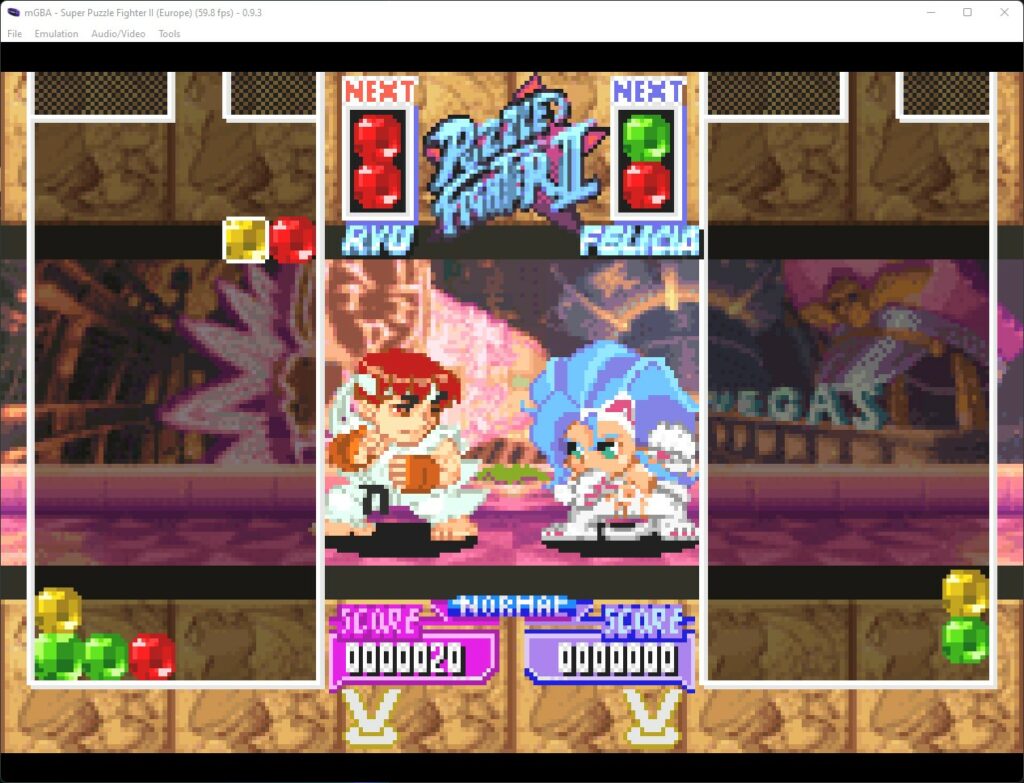 Not only can you play Game Boy Advance games with mGBA, but you can also play your favourite Game Boy / Game Boy color games too and also a bunch of Nintendo DS games as well.
mGBA is a really easy-to-use emulator and has some simple visual scaling and filter effects to enhance the look of your GBA for play on the big screen.
RPCS3 – PlayStation 3 (PS3)
RPCS3 is the only choice when it comes to PS3 emulation as far as I am concerned. Whilst PS3 emulation is still very young, RPCS3 offers an excellent rate of compatibility which is improving all the time.
RPCS3 is easy to set up, yet comprehensive in the functionality it offers, so fans of tweaking emulators and upscaling until your PC literally sweats will appreciate the detail on offer here!
RPCS3 offers everything from local multiplayer compatibility, save data, PS3 trophies, game patches and even compatibility with the PlayStation Eye camera, with PlayStation Move controller support being worked on.
This is an emulator that is developing at a fast rate and is fast becoming one of the most popular emulators out there.
SNES9X – Super Nintendo (SNES)
Snes9X is a very early emulator with work having first commenced on it all the way back in 1997, at the same time when the SNES was still a viable system and had games still being released commercially.
Needless to say, Snes9X has since developed into one of the best Super Nintendo emulators and is a hugely popular choice with retro gamers.
Like all of the best emulators for PC, Snes9X is packed with features and is really easy to use. It has built-in cheat functions, netplay, video and audio processing, save states plus much more.
Snes9X does a wonderful job of enhancing the visuals with its video processing options. It has everything from integer scaling (to ensure your SNES games are displayed in perfect scale) through to image processing that includes composite, s-video and RGB CRT effects.
With over 1,700 games available for the SNES across multiple regions, You have a lifetime of work to catch up on them all, but Snes9X is the companion you need to undertake that massive task!
PPSSPP – Sony PSP
If you are a fan of the Sony PSP, then PPSSPP is the best PSP emulator for PC with a high compatibility and performance rate.
First released way back in 2012, PPSSPP has come on a long way and can now get your PSP games looking way better than they ever did before.
PPSSPP is packed with all the features you would ever need in a PSP emulator including save states, up to 10x resolution upscaling, LAN multiplayer network, texture filtering/scaling and post-processing shaders.
PPSSPP is an open-source emulator that welcomes anybody to contribute improvements, so expect continued improvements and excellence from this emulator!
VICE – Commodore 64
VICE (which stands for Versatile Commodore Emulator) has been the standard when it comes to not only Commodore 64 emulation, but other 8-bit Commodore micros such as the VIC20, PET & PLUS4.
But we're here to talk about the C64! VICE is the only emulator you will ever need on the PC to get the full Commodore 64 experience.
VICE has been around a long time like many other emulations on this list, but this is another indication that it is one of the best emulators for PC.
It's not just the games of course that the Commodore 64 is well known for, but also the music courtesy of its SID chip that provided the actual synth sounds.
Paired with the right composers and developers, the C64 and SID chip became legendary throughout the 80s and early 90s for fast games with hardware sprites and its excellent and totally unique music and sound.
For a total blast of nostalgia, VICE is certainly an emulator you must try and you can't really claim to be a fan of retro games if you haven't yet done so. VICE also proudly sites at the top of our best C64 emulator list.
FinalBurn Neo – Neo Geo
FinalBurn Neo is a fork from the now ceased FinalBurn Alpha project. It focuses primarily on Neo Geo, but also caters for many other arcade systems including Capcom (CPS1, CPS2, CPS3), Konami & Taito games.
There are other emulators such as MAME that also play Neo Geo games, but without a doubt, FinalBurn Neo is the emulator to choose if it is system accessibility and speed you want.
A quick heads up – Getting everything you need together to play Neo Geo games can be a challenge, my advice would be to ensure you search for a compatible ROM set with the version of FinalBurn Neo you are using.
FinalBurn Neo is the best Neo Geo emulator for your PC. Imagine having the capability to do this back in the early 90s, it would have blown my mind as the Neo Geo was always out of reach with games alone costing in excess of $200 each!
Project64 – Nintendo 64
Another emulator that began life in the late 90s. Project 64 development commenced in 1998 and received its first full public release in 2001.
It has since received regular updates making it one of the best N64 emulators around and my choice for the best emulator for PC to play N64 games on.
I particularly like Project64 for its ease of use and features that I come to expect of emulators these days. Features such as save states, visual improvements such as anti-aliasing, anisotropic filtering, widescreen hacks/aspect ratio management and cheat options.
With almost 400 games made for the Nintendo 64, Project64 will assist you with reliving those memories in a more polished, upscaled manner if you wish to do so. It does a really excellent job of smartening up some of those rougher-looking games.
Plus, any excuse to give GoldenEye another go eh?!
PCSX2 – Sony PlayStation 2
There has never been a better time to dive into the quite frankly, massive Sony PlayStation 2 library. PCSX2 is the premier PS2 emulator that delivers a faithful recreation of the best-ever selling console.
Arguably 'not yet retro', the PS2 can certainly be called retro in my view. It was released over 20 years ago, a whole lifetime for a kid in the early 2000's to grow up playing PS2 games and want to revisit them now in their mid-20s seeking that nostalgic buzz!
PCSX2 utilises a range of plugins that you can use to configure your experience. For example, the video plugin allows full configuration of the level of resolution upscaling you wish to apply, right through to any visual filters to tweak to your preference.
With a back catalogue of over 10,000 games released worldwide, you could probably just spend the rest of your days playing through the PS2 library and the regional variations of many games!
PCSX2 is a must-have emulator for anybody searching for the best emulators for PC.
>> MORE: How to play PS2 games on PC
DuckStation – Sony PlayStation
Going back a few years before the PS2, we have the original and groundbreaking Sony PlayStation.
This is an all-time classic console and has a well-matured range of emulators available, however, it is the more recently developed DuckStation that gets my recommendation as the best PS1 emulator for PC.
DuckStation is loaded with all the options and enhancements you could ever need in a PS1 emulator.
The interface is nice and modern with clear icons for useful features such as changing disc (which sounds basic but can be a pain with multi-disc games!), cheat options, pause emulation, screenshots, etc.
It even has a really nice game library grid where you can access your games library. You can even add the game artwork to each game (although this has to be done manually for copyright reasons).
DuckStation is a really modern reinvention of what PS1 emulators should be. It has fast become my favourite PS1 emulator.
A must-have for PC users.
RetroArch – Multiple Systems
If you have read any other articles on this site, you may have noticed that I am a huge fan of RetroArch. RetroArch is not an emulator itself, but more of an easy-to-use 'frontend' where you can download emulator 'cores' for retro systems.
You will find pretty much an emulation core for any of your favourite retro consoles or computers on the PC version of RetroArch. So it is a really tidy solution to have everything in one place.
In addition to each emulator core having its own dedicated settings, RetroArch has its own range of standard settings and configurations for users to really make RetroArch their own.
There are stacks of visual post-processing effects to replicate not just CRT screens with scanlines/RF blur, but also recreating LCD screen effects, perfect for the likes of the Game Boy and other retro handheld devices.
Regardless of whether you use standalone emulators, every retro gaming fan should have RetroArch installed, especially if you have a large number of games to manage.
Check out our RetroArch setup guide to help you get started.
A lifelong avid gamer and computing enthusiast, Matt has decades of Retro Gaming experience. Now over 40 years old, Matt now even considers himself retro, but fortunately, nobody has developed a Matt emulator (not yet at least!).