The Sega Tower of Power! It sounds quite imposing, doesn't it? For those of you who are not in the know already, the 'Tower of Power' is a combination of several pieces of Sega-related hardware.
Tower of Power was not an official name given to this beefy combination of hardware, but something which became an endearing term for this Sega franken-console by Sega fans.
How Do You Build A Sega Tower Of Power?
It starts with a Sega Genesis / Mega Drive, connected to a Sega CD / Mega CD, then a 32x dropped into the top of the console, which then has a Sonic & Knuckles adapter cartridge plugged into the 32x topped off with a Sonic cartridge plugged into the Sonic & Knuckles game adapter…..Phew!
It wasn't a cheap purchase back in the day, or even now for that matter! Here's what all of the components typically cost then vs. now on eBay.
*Current pricing taken from pricecharting.com Jul-22
As you can see, to obtain the full Tower of Power back in the 90s, you would be paying some serious dollars. That also applies for today, with just getting hold of unboxed and used condition items still cost in excess of $550!
The Sega CD alone was $300, even in 1993!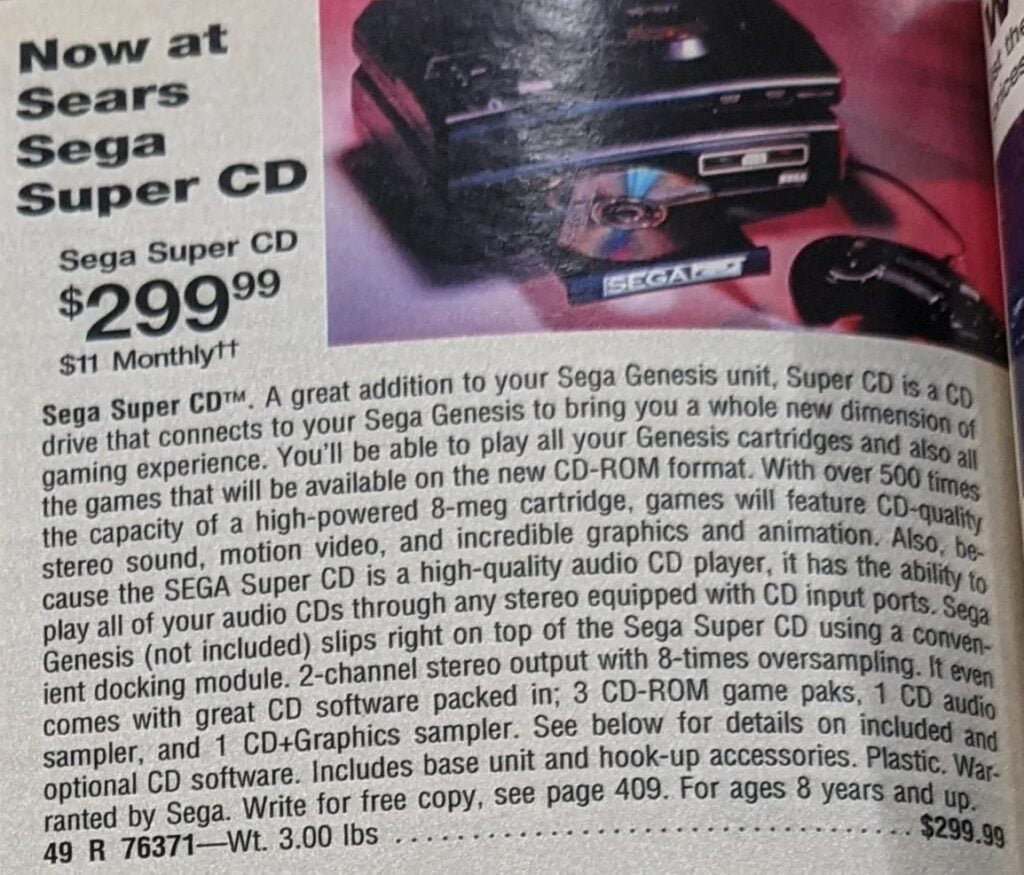 Even more outrageously, obtaining boxed versions of all of these items could cost you over $1200!
There are also other ways to build a supreme Tower of Power, as this Reddit user showed us back in 2010!
What Games Utilised The 32X & Sega CD?
So, what could be achieved with at least the Genesis, Sega CD and 32X combined? (We'll leave Sonic & Knuckles out of this for a second!).
There were actually 6 games designed for use with both the Sega CD & 32X add-ons. These are all FMV-based games, where the Sega CD was used primarily for its storage medium and the 32X for its enhanced processing power, mostly resulting in slightly less grainy and larger-sized video playback.
These 32X / Sega CD games are:-
Corpse Killer
Fahrenheit
Night Trap
Slam City with Scottie Pippen
Supreme Warrior
Surgical Strike
Here is a great example taken from the excellent Sega Lord X on YouTube. He covered this in his video The Sega Genesis & Sega CD vs The Sega 32X. You can clearly see the improvements from the 32X from the standard Sega CD version of Night Trap.
Sega Mini Tower Of Power
Unbelievably, Sega went and did it – They created the 'mini' Tower of Power!
This package is designed as an accessory kit for the Sega Genesis / Mega Drive mini and has no actual functionality. That said, who cares, it looks incredible!
You will notice in the image below that this is a Japanese version of each of the components, this is because it has only been released in limited volumes in Japan.
There are some other region variations designed which have been spotted on eBay and on YouTube, but if you want to pay a reasonable price, then you'll have more luck grabbing hold of a Japanese import Sega Tower Mini.