The N64 was launched back in 1996 and was Nintendo's first system aimed at breaking through into 3D gaming, already popularised on consoles by the Sony PlayStation & Sega Saturn. Shunning the then-favoured CD format for cartridges, the N64 lost a few fans because of this but still came out fighting as a force to be reckoned with.
N64 emulation is now in the healthiest state it has ever been in, which is great news for those looking to experience some of their old favourites again! In this guide, we pick out the best N64 emulators across a number of systems for your convenience.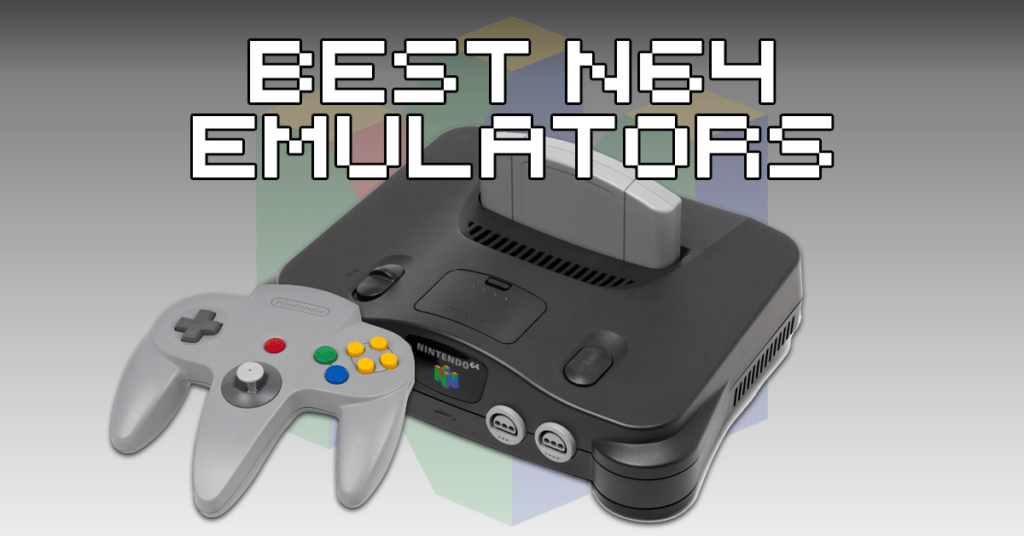 Best N64 Emulator For PC
Project64 is the best emulator to play N64 games on PC due to its accessibility and good performance.
N64 emulators are notoriously inconsistent in their performance, but Project64 balances ease of use and performance really well, which will make it the most attractive option for most users.
Project64 has a good amount of graphics options available to make games look all shiny, upscaled and texture enhanced with the ability to use custom texture packs, which add unique high-resolution textures to your favourite games. It has anti-aliasing, anisotropic filtering as well as dithering effects to polish things off!
It is a good job Project64 is easy to use too and also has a useful ROM list built in, because there are over 400 games for the N64, so you'll need a place to keep all of those games in order (and possibly years to play them all!), Project64 is one of the best emulators for PC today.
Project64 Features Include:-
Save states
Screenshots
Pause emulation
Widescreen enhancement
Cheats
ROM Library Management
Anti-aliasing
Anisotropic filtering
Dithering
Overscan settings
Per game settings
Per-pixel lighting
Resolution Upscaler
Frame buffer settings
Texture filtering & enhancements
Best N64 Emulator For Mac
OpenEmu is the best N64 emulator for Mac devices running macOS.
Well, OpenEmu is the best 'frontend' to use, but fortunately, it comes supplied with an N64 emulator core (Mupen64Plus in this case) so that you can easily play N64 games on your Mac.
As you may already know, OpenEmu is a lot like RetroArch as it is a cool-looking, easy-to-use front end for emulation cores. Basically, all you need to do is download OpenEmu, boot it up and you are pretty much ready to go!
OpenEmu uses the Mupen64Plus emulator core, which is considered one of the best out there. Having been available since 2001, it now has over 20 years of development behind it, so you know you are getting a very mature emulator.
Features Include:-
Premium Metal API scaling & multithreaded playback
Real-time 3D effects & image processing
Video filters
Full-screen mode
ROM scanning functionality
Cover art
ROM hack compatibility
Attractive UI and library to keep your ROM collection in order
Save states
A wide range of gamepads supported
Best N64 Emulator For Android
Now the most popular N64 emulator for Android on the Google Play Store, M64Plus FZ is a great N64 emulator that is quick to install and set up ready for use.
This app comes in two forms, the free version which has delays built in for ads, and a paid version, which removes all of these. Recent reviews suggest people are a bit annoyed with the delays when ads are displayed, but my advice would be to try out the free version, then upgrade to the Pro version if you want to get rid of the ads.
M64Plus FZ Features Include:-
ROM importer (also imports game artwork)
Game ROM library management
Resolution upscaling
Zoom
Screen scaling
Texture pack functionality
Preset profiles
GlideN64 Threaded Video
Flicker reduction
Video shaders
Audio settings
Touchscreen controls (Fully configurable)
External controller compatible
Now, you may have been an N64 fan back in the 90s, but Nintendo was really up against it with the might of Sony and their grey powerhouse, the PlayStation. Why not check out the best PS1 emulators and compare how games faired up on both systems.
So where did Nintendo go after the N64? The GameCube of course! Check out our guide to the best GameCube emulators and see how things progressed when Nintendo made the move to disc-based media!
Finally, be sure to check out our guide to emulators, which contains loads of useful information as well as links to all of our best emulator guides.
A lifelong avid gamer and computing enthusiast, Matt has decades of Retro Gaming experience. Now over 40 years old, Matt now even considers himself retro, but fortunately, nobody has developed a Matt emulator (not yet at least!).