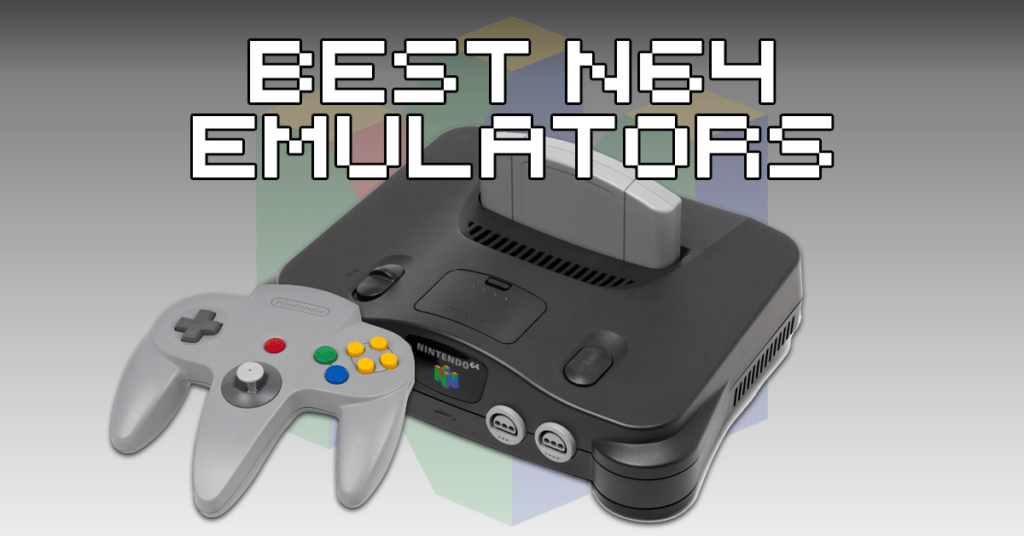 The N64 was launched back in 1996 and was Nintendo's first system aimed at breaking through into 3D gaming, already popularised on consoles by the Sony PlayStation & Sega Saturn. Shunning the then favoured CD format for cartridges, the N64 lost a few fans because of this but still came out fighting as a force to be reckoned with.
N64 emulation has been notorious with regard to emulator performance and ease of use, and with the wide range of N64 emulators available, it has never been clear which is the best choice for the beginner just wanting to have a quick game of Super Mario 64 and GoldenEye 007, or more advanced users who are looking to be hands-on with configuring their N64 emulation to their liking.
In this guide, I tackle this conundrum for you, by breaking down a list of the best N64 emulators around at the moment, summarising their strengths and weaknesses, and ultimately recommending the best N64 emulator for your needs.
Choosing The Best N64 Emulator
When looking at what might be the best N64 emulator for gamers, it's best to first consider what it is you want the most from an emulator. For example, if you're looking to be up and running as quickly as possible and prefer an intuitive interface, then it might be best to go with one of the easy-to-use multi-system emulators such as ares. But if you are an N64 purist and want full control over the settings in your N64 emulator, I would recommend a standalone N64 emulator package such as RMG.
If you're wondering what the difference is between a multi-system emulator and a standalone emulator, a multi-system emulator will allow you to play games from a number of systems, whereas a standalone emulator is exclusively for a single system.
To help you choose, here is a summary of the best N64 emulators currently available.
RMG
Platform: Windows / Linux
Emulates: N64 Only
Suitable For: Those looking for one of the most accessible and one of the best N64 emulation experiences. Great for both the inexperienced and experienced user
RMG (Rosalie's Mupen GUI) is an open-source, plugin-based Mupen64Plus N64 emulator frontend, maintained by developer, Rosalie241. The project aims to close the gap between Project64 and Mupen64Plus by utilising the excellent Mupen64Plus emulation core, whilst offering an easy-to-use front-end similar to Project64.
RMG features a grid view of your game library, supports cheat codes, rewinding, and save states along with a comprehensive range of video and audio plugins, the controller input, and graphics options.
RMG is one of the newest N64 emulator packages but I'm confident it could become your new favourite way to play N64 games on your PC due to its intuitive front end and excellent N64 emulation providing a very stable gameplay experience. So whether you are gaming at home on your desktop PC, or on the move with a laptop, RMG should be your first choice.
Project64
Platform: Windows
Emulates: N64 Only
Suitable For: Enthusiasts who want an accessible emulator with performance & functionality
Project64 is no stranger to those who emulate N64 games with it first being released in 2001. Because of this (and this makes me feel VERY old), it has benefited from literally decades of enhancements and features and continues to do so via the Project64 GitHub repository.
Utilising plugins such as GLideN64 to provide a powerful range of features such as enhanced textures and multiple graphical enhancements, Project64 has long been a firm favourite with N64 emulator fans.
There is a slight trade-off in terms of ease of use compared with the excellent GUI of RMG mentioned above, but the Mupen64Plus emulator core that RMG uses is a little more demanding on systems than Project64, so Project64 may be a better choice for those with lower end systems.
Otherwise, Project64 delivers a similar emulator experience to the Mupen64Plus emulator core behind RMG, so it's pretty much a matter of preference.
simple64
Platform: Windows / MacOS / Linux
Emulates: N64 Only
Suitable For: Those who want a 'simple' N64 emulator with high compatibility and emulator accuracy
Simple64, previously known as m64p, is a development fork of the Mupen64 Plus emulator. Over time, it has grown into its own distinct emulator, boasting its own set of special features and enhancements, and is one of the best Nintendo 64 emulators around.
A standout feature of Simple64 is its top-notch accuracy. Unlike some N64 emulators, Simple64 offers a closer emulation to the original N64 hardware. This leads to better game compatibility and reduced visual errors.
If you're looking to enjoy Nintendo 64 games on your PC, Simple64 is an excellent pick. It's precise, compatible, and loaded with features. However, keep in mind it might require a more powerful PC than some other emulators.
ares
Platform: Windows / MacOS / Linux
Emulates: Multi-System Emulator
Suitable For: Those who want not just an excellent N64 emulator, but a wide range of other excellent emulators in one easy-to-use package
ares is a free multi-system emulator that's open to everyone. Originating from higan and bsnes emulators, it places a strong emphasis on precise emulation and conserving gaming history.
You can use ares on Windows, macOS, or Linux. It also emulates multiple consoles including SNES, Genesis, GBA, PS1, and many more.
One of ares' standout features is its superior accuracy by utilising a number of well-regarded emulation cores, closely mirroring the original gaming hardware, leading to a more authentic gaming experience with fewer visual errors.
In short, if you're a fan of retro games, ares is a top-notch choice and is one of my personal favourite multi-system emulators. It offers precision and a rich set of features for an unmatched gaming experience so is perfect for both demanding users as well as beginners to the emulation scene.
M64Plus FZ
Platform: Android
Emulates: N64 Only
Suitable For: For those who want to play their favourite N64 games across a wide range of Android devices.
M64Plus FZ is a free and open-source Nintendo 64 emulator for Android devices. It is based on the Mupen64Plus emulator, and it features a number of enhancements and improvements specifically for Android.
M64Plus FZ is known for its high accuracy and compatibility with a wide range of Nintendo 64 games. It also features a number of advanced features, such as support for shaders and graphical enhancements, as well as the ability to apply game-specific patches and plugins.
With over 5 million downloads on the Google Play Store, M64Plus FZ is the go-to Android N64 emulator and my choice when it comes to firing up Mario Kart 64 on the move!
OpenEmu
Platform: MacOS
Emulates: Multi-System
Suitable For: For Mac users who want great N64 emulation as well as a number of great retro system emulators in a very attractive package
OpenEmu is a free multi-system emulator designed specifically for macOS. Launched in 2013 by a group of dedicated volunteers, it supports a wide range of gaming systems, such as Nintendo 64, SNES, Genesis, and PlayStation, among others.
With its easy-to-use and customizable interface, users can adjust the look, controls, and settings of OpenEmu. Plus, being a community-backed project, there's a variety of plugins and themes available for download on the OpenEmu website.
OpenEmu is, without a doubt, one of the best ways for Mac gamers to become retro gamers, especially when it comes to N64 emulation.
RetroArch
Platform: Windows / MacOS / Linux / Android / Raspberry Pi
Emulates: Multi-System
Suitable For: Those looking for one of the most configurable emulation platforms that offers dozens of emulation cores
RetroArch is probably the most well-known multi-system emulator, making it suitable for emulating not only the N64 but also an extensive range of other classic consoles which is what makes it hugely popular with the retro gaming community.
One of RetroArch's strong suits is its customizability. You have the freedom to tweak various settings, tailoring emulation settings such as resolution scaling, shaders, and audio configurations. Additionally, RetroArch boasts a rich library of "cores", that are essentially software pieces emulating the hardware of specific consoles. With several cores designed for the N64, you can select the one that aligns perfectly with your requirements.
Whilst RetroArch has an excellent UI, beginners might be overwhelmed with the amount of options available, so if you're interested in checking out RetroArch for N64 emulation, check out our RetroArch N64 setup guide.
Best N64 Emulator For PC
RMG is the best emulator to play N64 games on PC due to its excellent emulator performance, and configuration options as well. RMG could not be simpler to use thanks to its really accessible UI.
N64 emulators are notoriously inconsistent in their performance, but RMG balances ease of use and performance really well, which will make it the most attractive option for most users.
RMG has a good amount of graphics options available to make games look all shiny, upscaled, and texture-enhanced with the ability to use custom texture packs, which add unique high-resolution textures to your favourite games. It has anti-aliasing, anisotropic filtering and dithering effects to polish things off!
It is a good job RMG is easy to use too and also has a useful ROM list to manage your game list, because there are over 400 games for the N64, so you'll need a place to keep all of those games in order (and possibly years to play them all!), RMG is one of the best emulators for PC today.
RMG Features Include:-
Save states
Screenshots
Pause emulation
Widescreen enhancement
Cheats
ROM Library Management
Anti-aliasing
Anisotropic filtering
Dithering
Overscan settings
Per game settings
Per-pixel lighting
Resolution Upscaler
Frame buffer settings
Texture filtering & enhancements
Best N64 Emulator For Mac
OpenEmu is the best N64 emulator for Mac devices running macOS.
Well, OpenEmu is the best 'frontend' to use, but fortunately, it comes supplied with an N64 emulator core (Mupen64Plus in this case) so that you can easily play N64 games on your Mac.
As you may already know, OpenEmu is a lot like RetroArch as it is a cool-looking, easy-to-use front end for emulation cores. Basically, all you need to do is download OpenEmu, boot it up and you are pretty much ready to go!
OpenEmu uses the Mupen64Plus emulator core, which is considered one of the best out there. Having been available since 2001, it now has over 20 years of development behind it, so you know you are getting an application that emulates Nintendo 64 games at least as well as many of the N64 emulators out there.
Features Include:-
Premium Metal API scaling & multithreaded playback
Real-time 3D effects & image processing
Video filters
Full-screen mode
ROM scanning functionality
Cover art
ROM hack compatibility
Attractive UI and library to keep your ROM collection in order
Save states
A wide range of gamepads supported
Best N64 Emulator For Android
Now the most popular N64 emulator for Android on the Google Play Store, M64Plus FZ is a great N64 emulator that is quick to install and set up ready for use on your smartphone and tablet devices.
This app comes in two forms, the free version which has delays built in for ads, and a paid version, which removes all of these. Recent reviews suggest people are a bit annoyed with the delays when ads are displayed, but my advice would be to try out the free version, and then upgrade to the Pro version if you want to get rid of the ads. But if you're one of those people who just want a quick and easy way to play N64 games on Android, then M64Plus FZ is the perfect app to test out if your are an Android smartphone user.
M64Plus FZ Features Include:-
ROM importer (also imports game artwork)
Game ROM library management
Resolution upscaling
Zoom
Screen scaling
Texture pack functionality
Preset profiles
GlideN64 Threaded Video
Flicker reduction
Video shaders
Audio settings
Touchscreen controls (Fully configurable)
External controller compatible
Now, you may have been an N64 fan back in the 90s, but Nintendo was really up against it with the might of Sony and their grey powerhouse, the PlayStation. Why not check out the best PS1 emulators and compare how games faired up on both systems?
So where did Nintendo go after the N64? The GameCube of course! Check out our guide to the best GameCube emulators and see how things progressed when Nintendo made the move to disc-based media!
Finally, be sure to check out our guide to emulators, which contains loads of useful information as well as links to all of our best emulator guides.
A lifelong avid gamer and computing enthusiast, Matt has decades of Retro Gaming experience. Now over 40 years old, Matt now even considers himself retro, but fortunately, nobody has developed a Matt emulator (not yet at least!).