This is a tough one, with literally over 900 titles developed for the Sega Mega Drive / Genesis in all regions (and still increasing with homebrew titles!), it is hard to put down the definitive list of best Mega Drive games.
The Sega Mega Drive / Genesis is arguably Sega's best-ever console. Not necessarily just in terms of sales, but it was the right console at the right time.
In the 80s Sega was huge in the arcades and the appetite was there to bring the arcade experience home, this is where the Sega Mega Drive stepped in bringing not just Sega arcade classics to the home, but a range of additional Sega exclusive and excellent third-party titles to gamers.
1. Street Fighter II: Special Champion Edition – 1993
We start off with something that was the envy of Sega Mega Drive / Genesis owners in 1992 when the SNES received its port of the original Street Fighter II. But all good things did indeed come to those who waited, in the form of Street Fighter II: Special Champion Edition for the Mega Drive.
This version of the game is essentially the same as Champion Edition but with an additional game mode included in Street Fighter II: Hyper Fighting.
The game is a very respectable version and even saw a new 6-button controller launch for the Mega Drive, predominantly with this game in mind.
With the 6-button controller, it plays wonderfully, the only real shame is the poor quality speech samples, but other than that, it is arguably one of the better console ports of Street Fighter 2.
2. Streets of Rage 2 – 1993
Similar to Sonic 2 in that the original Streets of Rage was hugely successful, Sega did it again with Streets of Rage 2 and made an excellent game even better. Bigger sprites, more animation frames, more moves, more enemies and the legendary Yuzo Koshiro soundtrack.
Streets of Rage 2 see a slight change to the character lineup with Adam Hunter from the original game finding himself kidnapped by Mr X and Adam's brother, Eddie "Skate" Hunter part becomes part of the team to rescue him. We also have a big guy named Max who is a slow-moving but powerful character.
Without a doubt, one of the best Sega Mega Drive / Genesis games ever. Much like the Sonic games, Streets of Rage 2 is timeless and is one I come back to at least once a year for a playthrough.
3. Gunstar Heroes – 1993
Gunstar Heroes is a later game in the Sega Mega Drive / Genesis library, being released in 1993. The game sees the main characters, the Gunstar's, fighting against enemies to recover four all-powerful gems.
The gameplay is fast with your player performing acrobatic manoeuvres while blasting at the stacks of enemies who are bombarding the screen!
A straight-up single-player run-and-gun shooter, Gunstar Heroes is frantic and action-packed. It features visuals that really pushed the Mega Drive to its limits, demonstrating sprite rotation effects that rivalled and potentially beat the SNES. The sound and music are also top-notch, with reviews at the time of release all speaking favourably.
A latecomer to the Mega Drive, but certainly can be considered one of the best Mega Drive games.
4. ToeJam & Earl – 1991
ToeJam & Earl is a Sega classic and the characters were very much considered part of Sega's key franchises and mascots upon its release in 1991.
A surreal game in its presentation and humour, Toejam & Earl is hugely appealing just from its uniqueness!
You play as either ToeJam or Earl in single or multiplayer, who have crashed their spacecraft on earth. You need to walk around the land locating the lost broken pieces of spacecraft so you can return home.
Levels are randomly generated islands all set up in layers above, which you need to progress through via elevators (or lifts if you are British!). You collect all kinds of power-ups that are wrapped in presents scattered across the land to help you on your quest.
Everything in this game is quirky, the characters, music and gameplay. Its roguelike gameplay is complemented by its bonkers design and ideas. Definitely a Sega Mega Drive / Genesis classic!
5. Sonic The Hedgehog 2 – 1992
A boring choice perhaps, but I'm only going to include one Sonic game in my list and it's Sonic The Hedgehog 2.
Sonic 2 had the unenviable task of following up on one of the greatest games to date on the Sega Mega Drive / Genesis. But, to cut straight to the chase, Sega only went and pulled it off!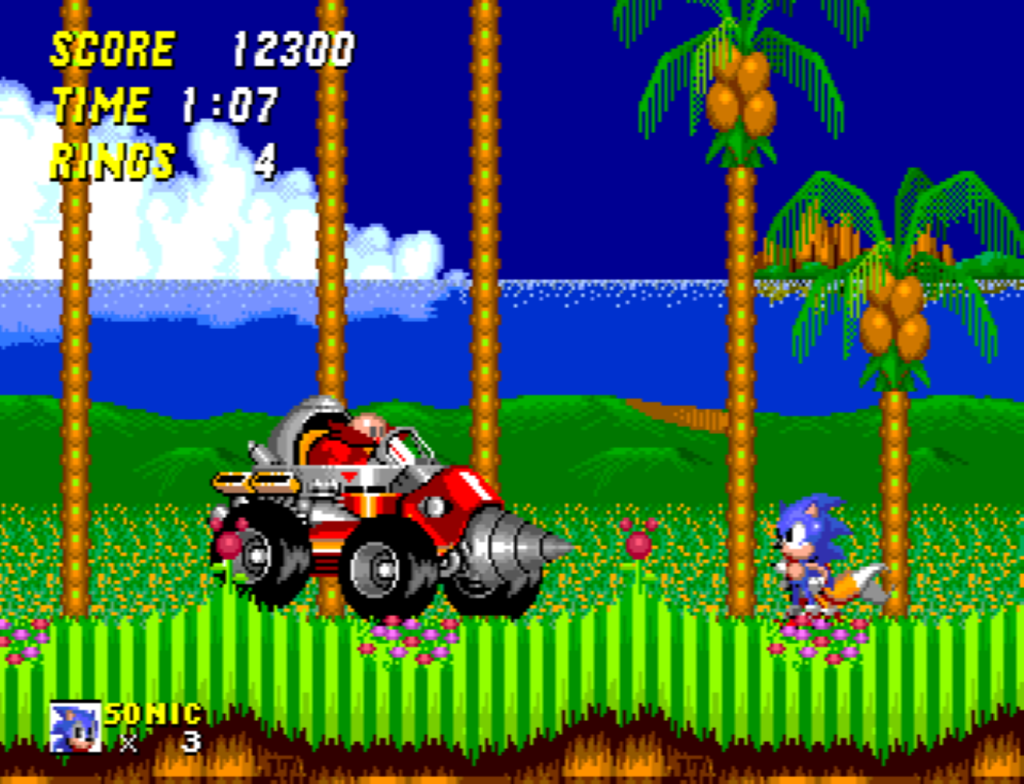 Sonic 2 built on the concepts of the original title and improved upon them significantly. Not only did we now have a second controllable character in Miles "Tails" Prower complete with a split screen 2 player mode, brand new 3D style special stages, and a new spin dash move which proved really useful to move from a standstill quickly and overall longer game.
Sonic The Hedgehog 2 has all the feelings of the original and takes it to a new level. Sonic 3 and beyond for me just didn't quite feel the same, so Sonic 2 is my definitive Sonic game. Fully deserved to be on the best Mega Drive games list.
6. Desert Strike – 1992
1992 and gaming saw a lot of Gulf War inspired games and none perhaps so popular as Desert Strike.
Desert Strike is an isometric view shooter where you control a US Apache helicopter, carrying out missions across a range of locations.
It has a nice steady pace that complements the missions which include destroying enemy buildings and targets, rescuing hostages, and capturing enemies all while being sure to keep an eye on your fuel levels and ammo. These can be replenished by finding ammo crates and oil barrels that can be winched up by your helicopter.
The game is nicely presented with a really nice pace to the gameplay which balances the action and strategic elements, The game received a number of ports to other systems, but the Sega Mega Drive / Genesis version can claim to be one of the best.
7. Aladdin – 1993
Released well into the Sega Mega Drive / Genesis console life in 1993, the year after the hugely popular Disney film, Aladdin was an immediate hit.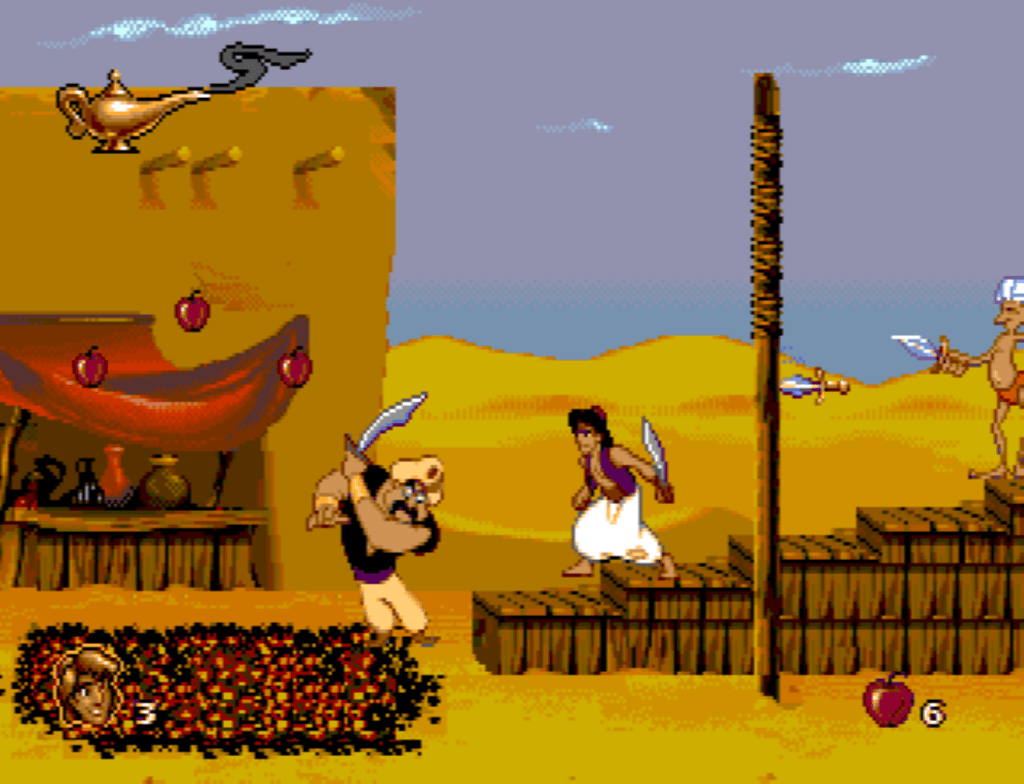 With its eye-catching visual style and slick animation, Aladdin is a single-player platformer where you control Aladdin across a number of locations throughout the film to ultimately battle Jafar in his palace.
You take on enemies using your sword or by using a limited supply of apples, which you can top up by collecting more as you progress through levels.
It's a very traditional side-scrolling platformer, but thanks to its decent level design, great soundtrack and absolutely incredible visuals, Aladdin still looks and plays great today.
It frequently finds itself on many best Mega Drive games lists It is no wonder that Aladdin became one of the best-selling games for the system.
8. Road Rash II – 1992
Road Rash II is the sequel to the hugely popular racing/combat game by Electronic Arts.
A brilliant concept, combining bike road racing with combat, you steam along levels choosing to either slickly overtake opponents and go for the win, or use your fist, kick and weapons to knock them into the gravel.
Very much more of the same, Road Rash II is very much a natural progression from the original game. The game engine, visuals and sound are the same, but somehow Road Rash II feels like a more refined game.
It is a fantastic game though but has a limited lifespan as the gameplay does get very repetitive and is quite a grind to work your way through to completion.
However, the new 2-player split screen mode is the big addition here, giving Road Rash II much more of a longer life than the original game.
9. Out Run – 1991
OutRun was huge back in the 80s. It was a revolution in the arcade with its sprite scaling technology and impressive sit-down cab, complete with the steering wheel, gear shifter, and pedals. Its unique soundtrack and sense of speed kept arcade goers hooked for years.
The aim of the game is to simply race your Ferrari from point to point across 5 stages, hitting the checkpoint before your time runs out avoiding traffic and trackside scenery.
OutRun introduces a concept where you choose your own route, with the road splitting off into two directions at the end of each section. Each stage has its own surroundings with the visuals such as the sky and road surface changing.
Another iconic element of the game is the soundtrack. All of the arcade original music is included; Magical Sound Shower, Splash Wave and Passing Breeze.
The Sega Mega Drive / Genesis also benefits from an additional track Step on Beat. These tunes are now legendary and certainly still create goosebumps still.
Truthfully, a decent console or home computer port of OutRun remained elusive up until the Mega Drive 1991 title; this was the definitive version of OutRun until the arcade perfect port on the Sega Saturn arrived. One of the best Sega Genesis racing games around.
10. Golden Axe 2 – 1992
Another sequel! Golden Axe 2 is another Sega franchise for which Sega is well known. An exclusive for the Sega Mega Drive / Genesis, Golden Axe 2 never saw an arcade release.
There is not anything huge that differentiates the original game from the sequel, in fact, many people seem to prefer the original, possibly because of its links to its bigger brother arcade version.
I consider Golden Axe 2 simply a natural progression to the original game and one which is defined in many ways. There are three playable characters; Ax Battler, Tyris Flare and Gilius Thunderhead battling through lands overrun by a new evil clan, this time led by Dark Guld.
Golden Axe 2 has solid visuals, audio and great gameplay. It feels like a real quest when battling your way through the game and is a great example of a great Sega franchise.
The 16-bit story didn't end there though for the Sega Mega Drive and Genesis, the Sega Mega CD (also known as the Sega CD), kept the party going. Check out our best Sega CD games article to see how Sega's Mega Drive and Genesis add-on fared.