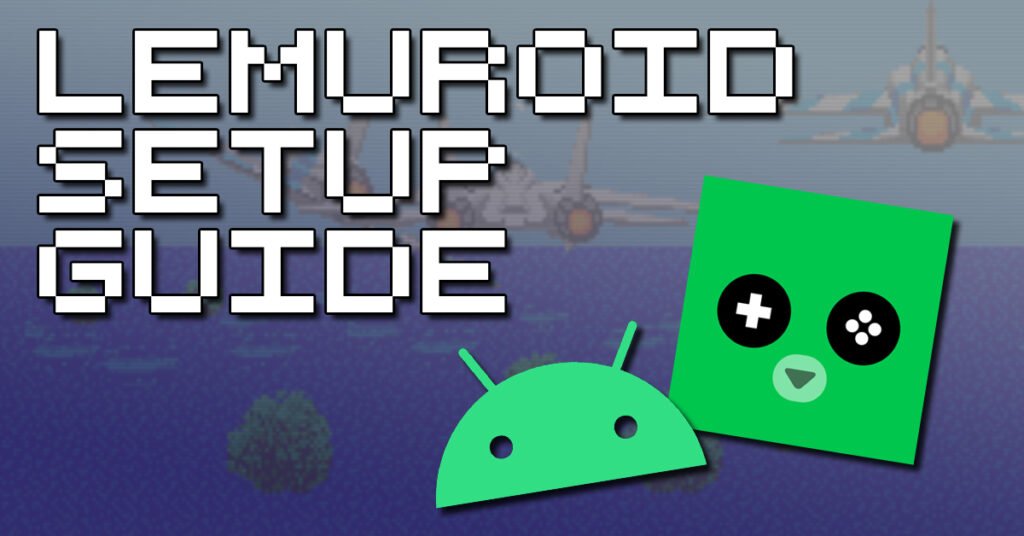 Lemuroid is an exceptional open-source emulator for Android devices that brings retro gaming to your fingertips without the steep learning curve.
Developed by Filippo Scognamiglio, Lemuroid has quickly gained popularity within the retro gaming community and among more casual retro gamers, thanks to its user-friendly interface, extensive compatibility, and just all round accessibility. Lemuroid supports many classic consoles, including the NES, SNES, Sega Genesis, Game Boy Advance, PS1, 3DS and lots more.
In this Lemuroid set up guide, we take you through the installation and configuration steps to have you playing your favourite retro games in no time!
Installing Lemuroid
Step 1: Install Lemuroid From Google Play Store
Open the Google Play Store and search for "Lemuroid"
Locate Lemuroid by Filippo Scognamiglio
Tap "Install" to download and install
Setting Up Lemuroid
Step 1: Initial Set Up
Before you can use Lemuroid, you'll need some game ROMs – itch.io have an excellent collection of free retro homebrew games that are designed to be played on original hardware, so are perfect for emulators too.
Open Lemuroid on your device
The first screen you will see asks you to select your ROMs directory, tap 'Select Directory'
Allow Lemuroid to access storage on your device if requested to do so
Step 2: Import Game ROMs
You will now need to navigate to where you have game ROMs saved on your Android device
Once you have found the folder where your ROMs are stored, tap 'Select'
Your games will now be imported*. Lemoroid also conveniently imports game box art where it is able to do so
Something worth noting at this stage is that you can set games as 'Favourites'. To do this, simply hold your finger on the game you wish to save as a favourite, then a menu will appear where you can select 'Add to favourites'
*If you find that your games are not importing, then ensure that your game ROM files are not stored in an archive file such as .zip, .rar, 7z, etc as this sometimes can cause issues.
You will see that Lemuroid has 5 icons at the bar at the bottom of the app

Home – This returns you to your game library
Favourites – Any games saved as favourites are listed here
Search – Search for any game in your library
Systems – Lists your emulated systems (e.g. Sega Master System, SNES, etc)
Settings – Accesses Lemuroid settings
Playing Games on Lemuroid
Step 1: Choose a Game
Now your games have been imported, you can simply tap the game you wish to play
The game will now launch
Step 2: Control Options
By default, without an external controller connected to your Android device, Lemuroid will display touchscreen controls
If you wish to use an external controller such as a Bluetooth controller, then ensure you have this connected to your Android device prior to booting Lemuroid and should automatically be picked up
If you need to remap your controller buttons, you can do this by accessing the 'Settings' menu along the bottom bar, then selecting 'External devices' where buttons can be remapped for connected controllers
Step 3: Saving and Loading Game States
One of the great features in Lemuroid include saves states, which allow you to save and instantly recall your position in a game.
Access the in-game menu by holding the menu icon (this is the button with the 3 horizontal lines)
Here you will see the game menu appear, and also 'Save' and 'Load' options
To save your games state, select 'Save', then select a save game slot
To recall a save state, select 'Load', then select the save states slot you wish to load
Lemuroid Settings
Lemuroid has a decent amount of options available to enhance your emulation experience, but it balances complexity with accesibility by not providing an overwhelming amount of options to the user.
There are two main places to configure Lemuroid and emulator settings, the main Lemuroid settings screen which allows you to configure the following settings:
Lemuroid Settings
Setting your ROM directory and rescanning it for new games
Save state autosave settings
HD mode settings
Default display filters
Input settings (vibration and external controller mapping)
Cloud save settings
Default emulator core settings
BIOS files detected
Advanced settings
Emulator Core Settings
The second set of configuration settings are found when are playing a game, these are specifically the emulation core settings and can be accessed by holding the 'menu' button in game (this is the button on screen with the 3 horizontal lines). Emulator core settings typically include things such as:
TV / Filter effects
Graphical improvements
Controller settings (specifically for the emulator core)
Summary
We love Lemuroid, it's the perfect alternative to anybody who finds RetroArch a little intimidating and would rather simply just press a couple of buttons and are ready to play!
Lemuroid does just that, and it offers a surprisingly comprehensive amount of emulation cores. At the time of writing, Lemuroid offers emulation for the following systems, all utilising the same Libretro emulation cores that RetroArch does.
Lemuroid Cores
Atari 2600 (A26) (stella)
Atari 7800 (A78) (prosystem)
Atari Lynx (Lynx) (handy)
Nintendo (NES) (fceumm)
Super Nintendo (SNES) (snes9x)
Game Boy (GB) (gambatte)
Game Boy Color (GBC) (gambatte)
Game Boy Advance (GBA) (mgba)
Sega Genesis (aka Megadrive) (genesis_plus_gx)
Sega CD (aka Mega CD) (genesis_plus_gx)
Sega Master System (SMS) (genesis_plus_gx)
Sega Game Gear (GG) (genesis_plus_gx)
Nintendo 64 (N64) (mupen64plus)
PlayStation (PSX) (PCSX-ReARMed)
PlayStation Portable (PSP) (ppsspp)
FinalBurn Neo (Arcade) (fbneo)
Nintendo DS (NDS) (desmume/MelonDS)
NEC PC Engine (PCE) (beetle_pce_fast)
Neo Geo Pocket (NGP) (mednafen_ngp)
Neo Geo Pocket Color (NGC) (mednafen_ngp)
WonderSwan (WS) (beetle_cygne)
WonderSwan Color (WSC) (beetle_cygne)
Nintendo 3DS (3DS) (citra)