Xenia is relatively new to the emulator scene, but it's made fast progress in providing one of the best PC-based Xbox 360 emulation experiences around.
This guide shows you how to set up Xenia Xbox 360 emulator, taking you through the whole process as well as offering configuration tips that will have your Xbox 360 games looking as sharp as possible.
What do I need to use Xenia?
Here is what you will need to use Xenia:-
Xenia Xbox 360 Emulator – Download links can be found in the first step below.
A Windows-based PC or laptop – Read the system requirements on the Xenia site to check if your system is powerful enough.
A Compatible Controller – Check out controller recommendations in our best emulator controllers guide.
Step 1 – Xenia Emulator Download
The first step is to download the Xenia emulator. Xenia has quickly become one of the best Xbox 360 emulators and delivers excellent emulation performance.
There are two versions of Xenia you should consider – Xenia 'Master' and Xenia 'Canary'. I'm using Xenia 'Canary' in this guide, but the setup process is the same for either version.
Xenia Canary is a development fork of Xenia that has more recent developments included which may not exist in the main development brand of Xenia, such as performance improvements and compatibility patches.
Use the buttons below or visit xenia.jp to download your preferred version Xenia.
Step 2 – Launch Xenia & Initial Setup
Once you have downloaded Xenia, create a folder called 'Xenia', then unzip the files from the Xenia .zip files into this folder.
Next, create a .txt file called 'portable.txt' in the 'Xenia' folder you have just created. This will allow Xenia to manage save game data properly.
If you now launch Xenia and then close it again, you will notice that some additional files have been created in your 'Xenia' folder. One of the most important files is the 'xenia-canary.config.TOML' file.
This file contains all of the Xenia emulator settings not accessible in Xenia itself, such as display resolution, GPU-related settings as well as many other advanced features.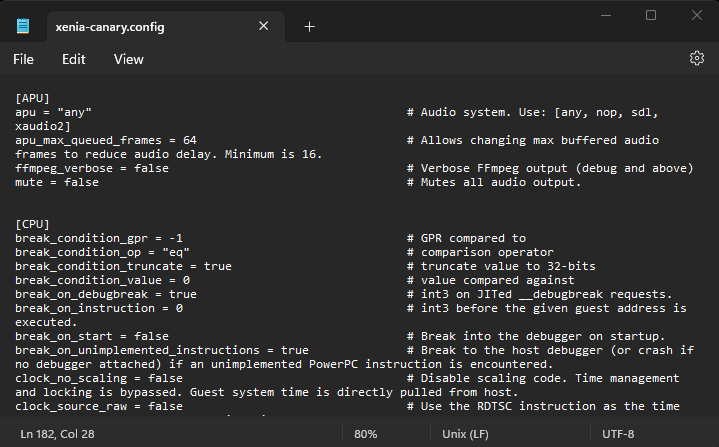 We will not be changing any of the settings in this guide as compatibility varies between PC hardware and different setting combinations, so it is best to experiment yourself to see what works with your system best.
For full details on Xenia settings, check out the Xenia options Github page for reference.
If you do make any changes to the .TOML file that causes Xenia to crash and you can't figure out how to fix things, simply delete the '.config.TOML' file and relaunch Xenia and the .TOML config file is recreated along with its default settings.
Step 3 – Xenia Compatible Controllers
Xenia is works with Xinput-compatible controllers. This includes the Xbox 360 and Xbox One/Series controllers as well as many of the 8BitDo controllers found in our best controllers for emulators guide which have Xinput mode.
To connect your controller to Xenia, make sure you have your Xinput-compatible controller connected to your computer before you launch Xenia.
Looking For a new Controller to use with Xenia?
I recommend the 8BitDo Pro 2 controller. This is one of the most versatile controllers available and works with loads of emulators, as well as being compatible across a wide range of systems including PC, Mac, & Raspberry Pi devices.
Step 4 – Downloading Games For Xenia
Xenia is compatible with .iso and .xex game files as well as XBLA game files.
Downloading Xbox 360 games is an area that can be fraught with copyright issues, so for this tutorial, I am using the Xbox 360 homebrew title, 'Beats of Rage'.
Simply download the .zip file from the link above, extract the .zip file, you will then find another .zip file called 'Beats of Rage v1.zip', extract the files from this archive and you will be ready to launch it in Xenia.
Step 5 – Booting Xbox 360 Games With Xenia
Now we're ready to launch your first game in Xenia!
To launch a game in Xenia, select 'File -> Open', then select the 'bor360.xex' file downloaded in the previous step or any other Xbox 360 game file you have available.
Xenia will now launch the game, and you'll be ready to play!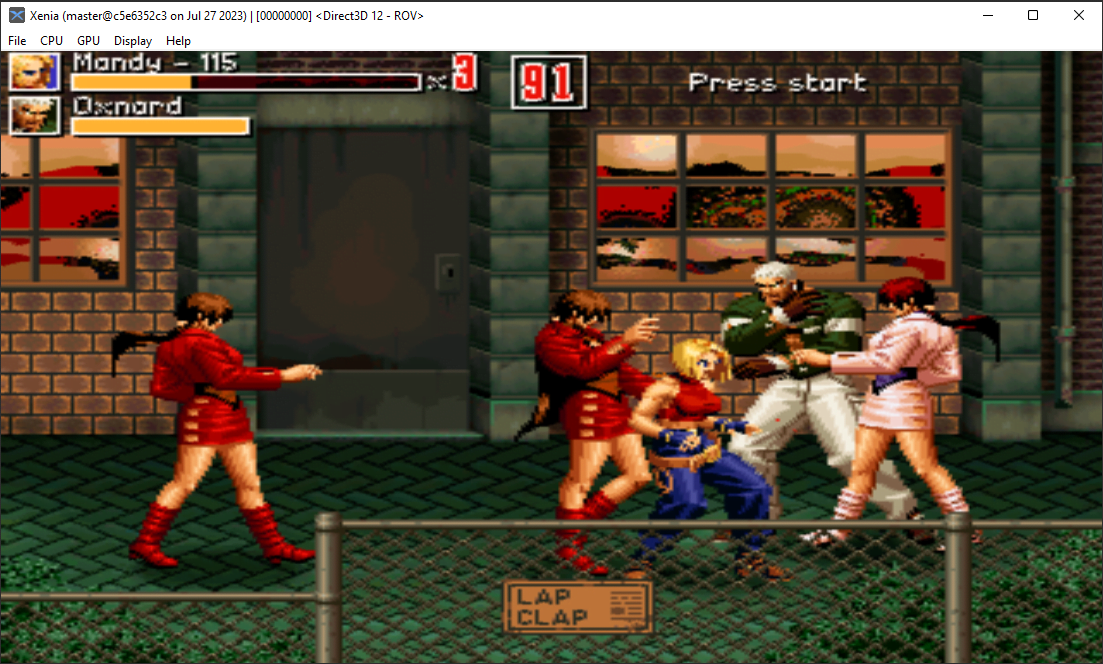 Xenia FAQs
Can Xenia Play Original Xbox Games?
No, Xenia is not designed to play original Xbox games. There are dedicated original Xbox emulators such as XQEMU & CXBX-Reloaded should you wish to emulate the original Xbox.
A lifelong avid gamer and computing enthusiast, Matt has decades of Retro Gaming experience. Now over 40 years old, Matt now even considers himself retro, but fortunately, nobody has developed a Matt emulator (not yet at least!).