Want to relive all those classic Sega Genesis titles? Combining RetroPie with a Raspberry Pi is your key to unlocking all the nostalgia you could ever want with it delivering top-notch Sega Genesis emulation as well as a huge range of other systems for you to enjoy.
RetroPie integrates the capabilities of EmulationStation—a visually engaging and sophisticated front end, with the hugely popular emulator hub that is RetroArch, the renowned authority in multi-system emulation. This opens up an extensive array of emulator cores and advanced emulation functionality.
Follow this RetroPie Genesis setup guide, and you'll have your dream Sega Genesis library built in no time!
Requirements
A Raspberry Pi & MicroSD Card
Download and Install RetroPie – Download RetroPie Here
A keyboard and mouse – If you plan on using your Raspberry Pi to download BIOS files and ROMs
Have at least one Genesis game ROM ready to test – The lr-genesis-plus-gx core accepts the following file extensions – .7z .bin .gen .md .sg .smd and .zip
To play games on RetroPie you will of course need a controller – The 8bitdo M30 is one of the best RetroPie controllers and an excellent all-arounder for emulation and can also be connected by USB for even better performance in terms of latency.
Step 1 – Boot Your Raspberry Pi
The Sega Genesis emulator 'lr-genesis-plus-gx' typically comes preinstalled as part of the prebuilt RetroPie setup, so you should not have to install it manually.
Should you find that the lr-genesis-plus-gx emulator is not installed, then follow these steps:
Go to the RetroPie options menu and select 'RetroPie Setup'
'Manage packages
'Manage main packages'
Scroll down and select lr-genesis-plus-gx'
Finally, select 'Install from pre-compiled' binary'
RetroPie will then download and install the Sega Genesis emulator
Navigate back through the menu and then select 'Exit'
Step 2 – Copy Your Genesis ROMs To 'roms' Folder
You will need to copy at least one of your Genesis game ROMs to the RetroPie 'roms' folder.
RetroPie with lr-genesis-plus-gx will be able to boot games stored in .zip files as well, so you can either place the game files directly into this folder, or within a .zip file.
Using Your Raspberry Pi To Move ROM Files
To get desktop mode up and running on your Raspberry Pi RetroPie setup, we will need to have the 'Pixel' desktop environment installed. Don't worry, it's really simple to do!
Upon booting your Raspberry Pi, scroll over to the RetroPie options menu and choose 'RetroPie Setup'.
RetroPie Setup (Access this from the RetroPie options menu)
Configuration / Tools
Raspbian Tools
Install Pixel desktop environment
After installing the Pixel desktop environment, restart your Raspberry Pi. In RetroPie, simply navigate to 'Ports' and pick 'Desktop'.
This will then launch into desktop mode, allowing you to explore your Raspberry Pi's folders and files.
Next, you will need to transfer your Sega Genesis ROMs to the below location:
/home/pi/RetroPie/roms/genesis
Remotely Accessing Your Pi From A Windows PC
For those using a Windows PC, transferring files to your Raspberry Pi is very straight forward.
First, verify that your Raspberry Pi and PC are connected to the same network. Next, open Windows file explorer and enter '\\retropie' in the address bar.
Give your Pi a minute to become visible on the network, as it might require some time to appear.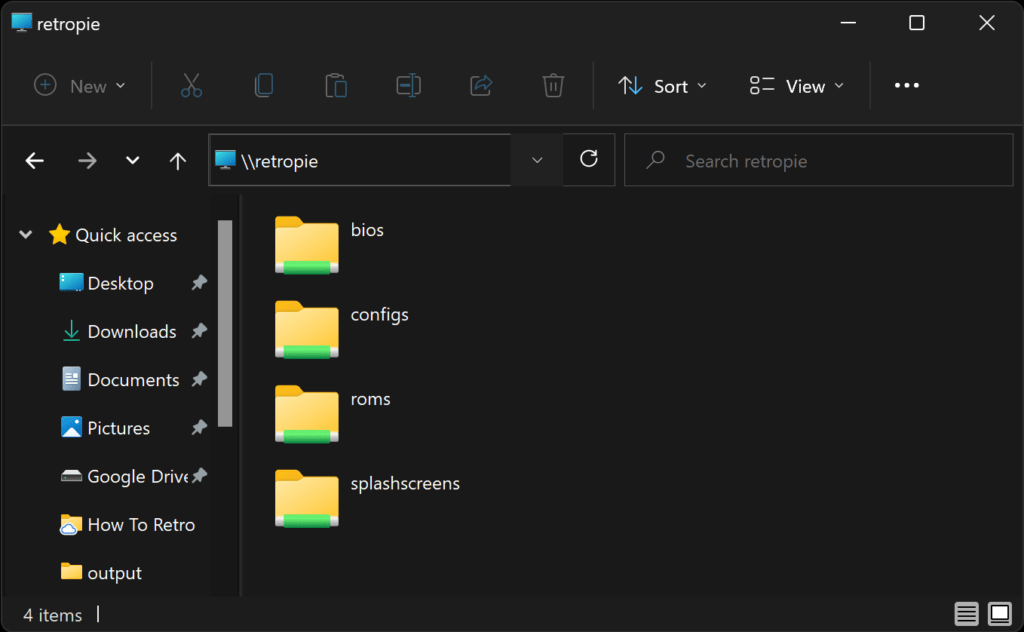 This will then connect to your Raspberry Pi and you will be able to see the 'roms' folder.
Next, copy your game files from your PC to the /roms/genesis/ folder on your Raspberry Pi.
Once you have copied your games across to the roms folder, restart your Raspberry Pi or EmulationStation so the games can be indexed and visible for you to select.
Step 3 – Select A Genesis Game & Play
Once EmulationStation has restarted, navigate to the Genesis or Mega Drive section, which will display the number of available games, next, select the Genesis or Mega Drive menu and choose a game to enjoy!
This RetroPie Sega Genesis/Mega Drive page provides details on the state of Sega Genesis emulation on the Raspberry Pi as well as further configuration details for RetroPie Sega Genesis emulators.
A lifelong avid gamer and computing enthusiast, Matt has decades of Retro Gaming experience. Now over 40 years old, Matt now even considers himself retro, but fortunately, nobody has developed a Matt emulator (not yet at least!).