The Nintendo Wii is not as retro as some may perceive, but for me, it's fast approaching that 20 years old mark, plus, RetroArch has a Wii core, so surely that makes it retro enough!
Dolphin is the best Wii emulator as well as the best GameCube emulator available and as it happens, there is also a Dolphin emulator core available for RetroArch, which is what brings us to this guide on how to set up RetroArch to play Wii games.
Requirements
Install RetroArch – Download RetroArch Here
Have a Wii game image ready to test – These are typically .iso files.
To play games, you will ideally need a controller – You can either use a gamepad and control the onscreen pointer which would usually be controlled by the Wiimote or alternatively, you can actually use a real Wiimote with the Dolphin core by using a USB Sensor Bar.
Step 1 – Download The Dolphin Core In RetroArch
The first thing to do is download the Dolphin core in RetroArch. Do this by booting up RetroArch, then selecting 'Load Core' and then 'Download a Core'.
Next, we will want to go scroll through the Core Downloader list until you reach 'Nintendo – GameCube / Wii (Dolphin)'. Select this and the Dolphin core will begin to download and install.
If you are using an existing RetroArch installation, go back to the main menu, scroll down to 'Online Updater' then select 'Update Core Info Files' and 'Update Databases'.
This will then update all key files and databases in RetroArch making sure everything is all up to date and will minimise any potential issues with out-of-date files.
Step 2 – Select A Wii Game To Play
Unbelievably, that's all there is to it! We are ready to boot up our first Wii game in RetroArch using Dolphin.
To do this, go back to the main menu, then select 'Load Content'.
Next, navigate to your Wii game files and select the game image you wish to play.
The game will now start up and you are ready to play.
Step 3 – RetroArch Wii Settings & Upscaling Resolution
The final touch is to get your Wii games upscaled and look super sharp. This is really easy to do in the RetroArch Dolphin settings.
Simply press F1 or the hotkey you have set up to pause emulation to access the quick menu in RetroArch.
Next, scroll down the menu until you get to and select 'options'.
This will then give you access to all the Dolphin core emulator options, including the internal resolution settings where you can increase the resolution scale to your required level.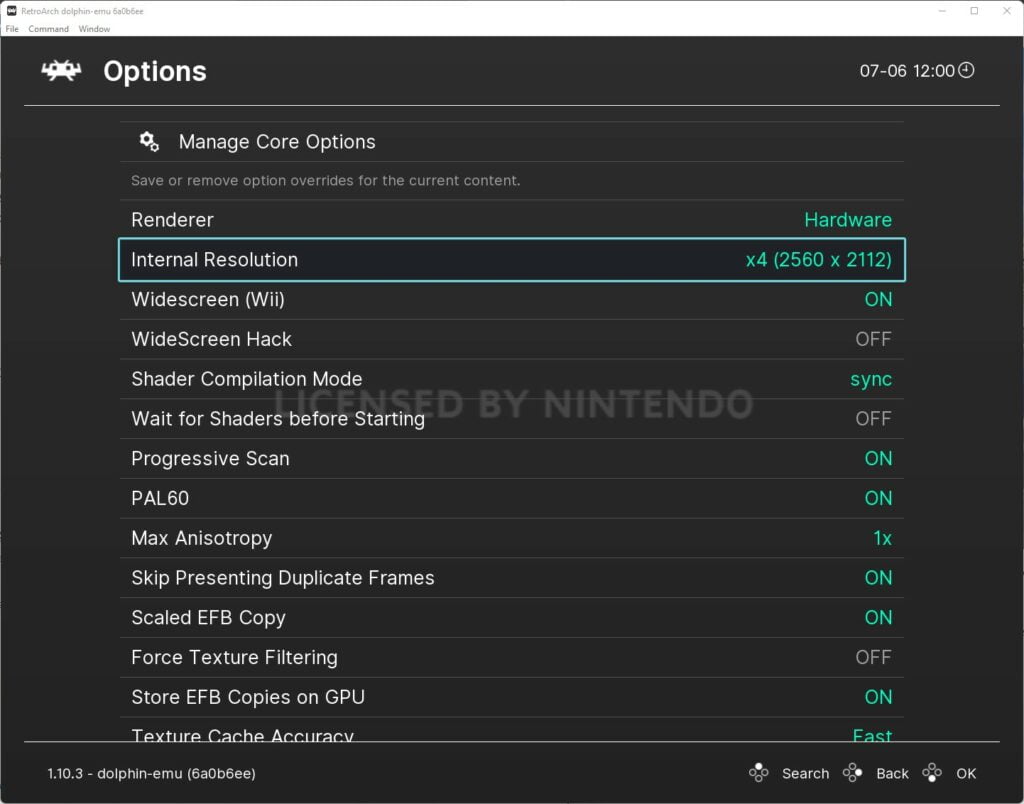 Simply select 'Internal Resolution', then choose the resolution you require.
I recommend just upping to a resolution until you either get to you the maximum your display can handle or whatever the device you are using can handle before the game framerate begins to slow down.
There are stacks of other options here too (which are fully detailed in the RetroArch Dolphin Core Options documentation. So experiment and see what works best with your system.
A lifelong avid gamer and computing enthusiast, Matt has decades of Retro Gaming experience. Now over 40 years old, Matt now even considers himself retro, but fortunately, nobody has developed a Matt emulator (not yet at least!).