Fasten your seatbelts and rev up your engines as we take a nostalgic drive through the best Sega Genesis racing games.
The Sega Genesis, also known as the Mega Drive, was a 16-bit home video game console released in 1988. It boasted an impressive library of titles, and racing games were among the most popular genres on the system.
From fast-paced motorcycle action to high-stakes Formula One championship racing, the Sega Genesis offered something for every racing enthusiast. In this article, we will reminisce about these adrenaline-pumping classics that left a lasting mark on the racing genre.
Super Hang-On
Super Hang-On is a thrilling motorcycle racing game that was first released in arcades before making its way to the Sega Genesis.
Developed by Sega, the game features blistering speeds and tight turns, as you navigate high-speed race tracks on a quest for first place. Choose between four tracks across four continents, each with varying levels of difficulty, and race against the clock to reach checkpoints and extend time.
As one of the best Sega Genesis racing games, Super Hang-On remains a Sega fan favorite with its fast-paced action and is a great conversion of the arcade original.
Super Monaco GP
Put on your racing gloves and hit the track with Super Monaco GP, the critically acclaimed F1 arcade racer by Sega.
The game delivers loose recreations of real-world circuits, including the prestigious Monaco Grand Prix (which is not a realistic recreation!), where you can test your mettle against some of the world's best drivers. Super Monaco GP offers three game modes: Super Monaco GP mode, World Championship, and Free Practice giving you the opportunity to hone your skills before taking on the big leagues.
With superb arcade gameplay, great graphics, and heart-pumping action, Super Monaco GP is undoubtedly one of the best Sega Genesis racing games and another fantastic Sega arcade port.
Road Rash II
Nothing says "racing with attitude" quite like Road Rash II, the notorious motorcycle racing game with a twist. In this thrilling sequel, you not only have to outrun your opponents but also engage in brutal hand-to-hand combat to gain the upper hand.
Road Rash II is more of the same, but that's a good thing, utilising weapons, including chains that can be used to whip your opponent from their bike, adds an extra layer of strategy to the already high-octane racing experience, you need to decide whether you stand a better chance to fight, or race!
The game features a variety of point-to-point tracks, each with its own set of hazards and obstacles to keep you on your toes. Road Rash II stands out among the best racing/fighting hybrids for its unique blend of racing and brawling action.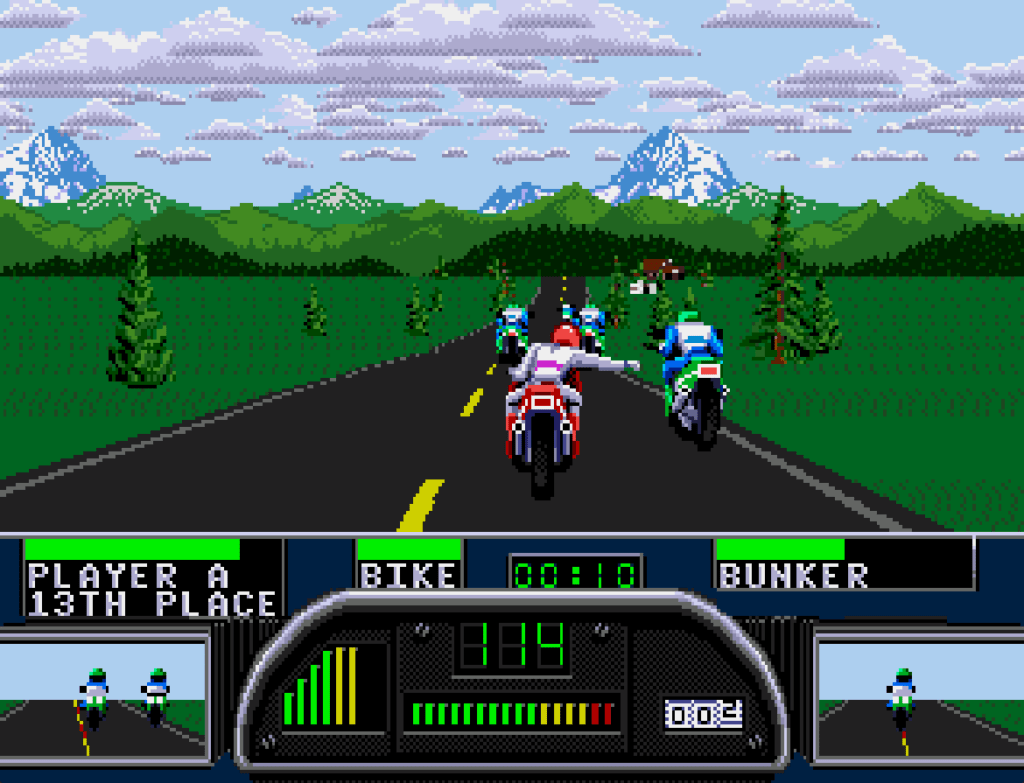 Out Run
Cruising along the coast with the top down, Out Run is a timeless classic that lets you experience the joy of the open road music blasting with the classic Out Run playlist.
This iconic arcade racer by Sega puts you in the driver's seat of the infamous Ferrari Testarossa Spider, racing against the clock to reach various checkpoints and progress through branching paths.
The game offers beautiful and diverse environments to admire whilst you are racing through them, from sun-soaked beaches to lush forests. As a standout title in the best Sega Genesis racing games lineup, Out Run's sense of speed and arcade quality is unmatched and also goes down as one of the best Sega Genesis games of its time.
Super Skidmarks
Ready, set, skid! Super Skidmarks is a high-speed off-road racing game that will have you sliding around corners and kicking up dirt.
Featuring a range of off-road vehicles, including monster trucks and buggies, you'll race on various challenging tracks with tight turns and rugged terrain.
Super Skidmarks also supports up to four players in split-screen mode utilising the game cartridges built in additional joypad ports, making it perfect for some friendly competition. Its addictive gameplay and chaotic racing action earn Super Skidmarks a spot among the best Sega Genesis racing games.
Street Racer
Buckle up for some cartoony, chaotic fun with Street Racer, a unique racing game that combines fast-paced action with wacky characters and lively tracks.
Take control of one of eight distinctive racers, each with their own personality and special abilities. Street Racer's gameplay involves navigating through various colorful courses, using power-ups and abilities to gain an advantage over your opponents, a bit like Mario Kart you might say!
Offering excellent scaling and rotation effects, engaging gameplay, and four-player split-screen multiplayer, Street Racer offers up a great Mario Kart alternative for Genesis fans.
Micro Machines 2: Turbo Tournament
Tiny cars, big excitement! Micro Machines 2: Turbo Tournament is the perfect example of how size doesn't matter when it comes to great racing games.
You'll take control of miniature vehicles as you navigate through imaginative tracks set in everyday environments, such as breakfast tables and pool tables.
The game offers various modes, including single-player and multiplayer, with support for up to eight players thanks to Codemasters J-Card. Its addictive gameplay, creative courses, and fierce competition make Micro Machines 2: Turbo Tournament one of the best Sega Genesis racing games.
Virtua Racing
3D graphics, anyone? Virtua Racing is a groundbreaking title that brought the third dimension to the world of Sega Genesis racing games. Notable for its use of the Sega Virtua Processor chip on the game cartridge, this made Virtua Racing possible on the now ageing Genesis hardware.
Virtua Racing allows you to drive high-speed cars on challenging circuits while enjoying impressive 3D visuals. With its arcade-style gameplay, you'll focus on mastering tight turns and maintaining speed to achieve the fastest lap times.
The game features three different tracks and multiple camera angles, allowing you to find the perfect perspective for your racing experience. As a pioneer in 3D racing, Virtua Racing deserves its place on this list.
Super Off Road
Get ready to kick up some dust with Super Off Road, an exciting off-road racing game that will have you battling it out on bumpy tracks in powerful trucks.
Based on the hit arcade game by Leland Corporation, Super Off Road offers intense top-down racing action, as you navigate tight corners and tough terrain in pursuit of victory.
With a variety of trucks to choose from and numerous upgrades to improve performance, you'll have plenty of options to create the ultimate off-road machine.
Super Off Road's engaging gameplay and fierce competition with friends made it a hit on multiple systems as well as features in our best SNES racing games list, but it is certainly at home on Sega's 16-bit system and one of the best Sega Genesis racing games around.
Lotus II: RECS
Start your engines, it's time to hit the track with Lotus II: RECS, a sleek and stylish racing game featuring the iconic Lotus sports cars.
Developed by Magnetic Fields and published by Electronic Arts, this sequel to the well-received Lotus Turbo Challenge introduces a unique feature: the Race Environment Construction System (RECS), which allows you to create custom tracks by adjusting various parameters.
The game offers multiple environments, such as forests, deserts, and snowy mountains, challenging you with a variety of terrains and weather conditions. Lotus II: RECS also features a two-player split-screen mode, letting you race head-to-head against a friend.
With its fast speed, smooth controls, and the innovative RECS system, Lotus II: RECS is one of the most unique racers on the Genesis.
Summary
The Sega Genesis truly delivered an unforgettable racing experience for gamers, with titles that spanned various styles and sub-genres.
From the adrenaline-pumping motorcycle races in Super Hang-On to the high-speed Formula One action in Super Monaco GP, and from the unique combination of racing and combat in Road Rash II to the serene coastal drives in Out Run, these games left an indelible mark on the racing genre.
Let's not forget the off-road excitement in Super Skidmarks, the zany competition in Street Racer, and the customizable tracks in Lotus II: RECS.
These best Sega Genesis racing games not only showcased the power and versatility of the console but also paved the way for countless racing titles that followed. So, whether you're a die-hard racing fan or a casual gamer, these classics are worth revisiting for a high-octane trip down memory lane.