So you've set up your Raspberry Pi with RetroPie, or are you perhaps only just thinking of buying a Raspberry Pi for some retro gaming? Either way, you're going to want to know what the best RetroPie games are!
RetroPie allows you to play tens of thousands of classic home computer and console games from the likes of the Atari 2600, through to the PlayStation and is available to download now from the official RetroPie site.
In this guide, we recommend games across many classic systems to help you start your RetroPie journey.
So let's take a look at the best RetroPie games to play in 2023.
Best Atari 2600 Games For RetroPie
Pitfall!
Pitfall! is a classic Atari 2600 game released by Activision in 1982.
You control Pitfall Harry and have to navigate all manner of obstacles in a jungle collecting treasure, all before the timer runs out.
You have to overcome hazards such as pits, logs rolling towards you, crocodiles, snakes and scorpions to beat each screen.
There are 255 screens that will challenge you, so you have to make sure you keep moving at a decent pace so as to not run out of time.
Other Top Atari 2600 Games For RetroPie
Frogger
Asteroids
Pole Position
Space Invaders
Missile Command
Best Commodore 64 Games For RetroPie
International Karate +
International Karate +, or IK+ as it's also known, was released on many systems back in 1987 but was known for its C64 version.
A fighting game with a bit of a difference pits 3 karate combatants against each other in points-based rounds, where the winner is declared when a contestant has 6 points or the most points when the timer runs out.
Full of hidden easter eggs that appear in the background whilst you fight, there are loads of cool quirky additions to IK+, making it one of the best Commodore 64 games.
Also, as you'd expect, the C64 music is awesome too!
Other Top Commodore 64 Games For RetroPie
Wizball
Turrican II
Impossible Mission
Bubble Bobble
Commando
Best ZX Spectrum Games For RetroPie
Manic Miner
Arguably one of the games that really started gaming on a significant level, Manic Miner was launched on the ZX Spectrum all the way back in 1983.
It's a simple but taxing platform game where you have to navigate each screen and reach the exit.
With pixel-perfect jumps and expert timing required, Manic Miner is considered one of the all-time greats across any platform.
A real piece of gaming history and one that you shouldn't be without in your Retropie collection.
Other Top ZX Spectrum Games For RetroPie
Skool Daze
Jetpac
Treasure Island Dizzy
Robocop
Chase H.Q.
Best Master System Games For RetroPie
Sonic The Hedgehog
Whilst Genesis owners gloated about their shiny new Sega mascot, Sonic the Hedgehog, Sega Master System owners were left wanting, but not for long!
Sonic the Hedgehog found its way onto Sega's 8-Bit system just months after its 16-Bit counterpart, and to great acclaim.
Sega did a fantastic job of keeping all the soul and feel of Sonic, but ported it to an aesthetically reduced package, with more of a twist on the gameplay where exploration replaced the super fast-paced speed of the Genesis version.
Some fans even go as far as to say they prefer the Master System version in retrospect, but either way, this is a game that really shines on the Master System.
One of the best Master System games for sure, and a must-have for your Retropie system.
Other Top Master System Games For RetroPie
Wonderboy In Monster Land
Land Of Illusion Starring Mickey Mouse
Golden Axe Warrior
R-Type
Fantasy Zone
Best NES Games For RetroPie
Super Mario Bros. 3
Just when Mario fans thought the series couldn't get any better, Nintendo came along with this absolute monster of a game.
Super Mario Bros. 3 was released in 1988 and pushed the NES to its limits with a game that looked fantastic, sounded great and was huge in depth.
Whilst challenging, Super Mario Bros. 3 essentially paved the way for future Mario games with its overworld maps, multiple kingdoms diverse range of characters, many of which remain staples of the Mario world even today.
Super Mario Bros. 3 arguably is the definitive Mario game but is at the very least one that every Retropie owner should have on their systems.
Other Top NES Games For RetroPie
The Legend Of Zelda
Mega Man 2
Excitebike
Punch-Out!!
Metroid
Best Game Boy Games For RetroPie
Tetris
Released in 1989, Tetris is pretty much the game that made the Game Boy the must-have gadget at the time.
Bundled with the Game Boy in the US and Europe, Tetris was a revelation in that it opened up Nintendo's audience to older generations who were not typical gamers.
This mature but kid-friendly title is as classic today as it has ever been. Whilst not the first-ever version of Tetris, the Game Boy version is still the definitive way to play the game.
Classic gameplay, classic design, classic music, Tetris in the same way Manic Miner is, is a historical example of how games can influence and change the way industry moves.
Other Top Game Boy Games For RetroPie
Super Mario Land
Pokémon Red and Blue
The Legend of Zelda: Link's Awakening
Kirby's Dream Land
Super Mario Land 2: 6 Golden Coins
Best Genesis Games For RetroPie
Sonic The Hedgehog 2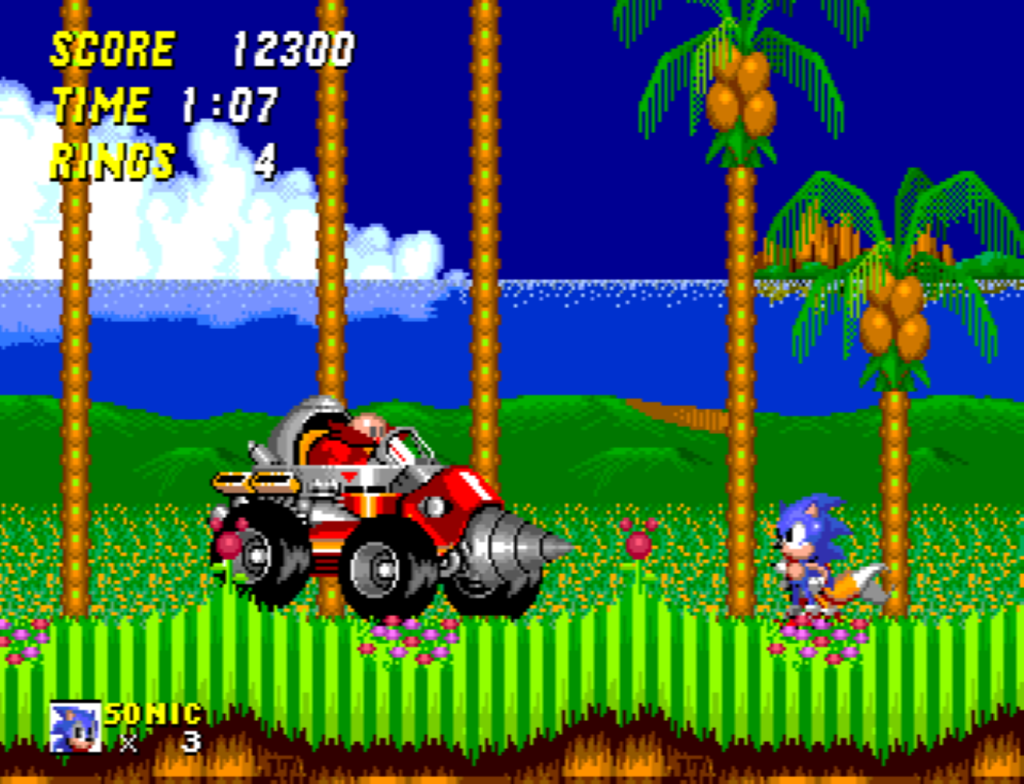 Whilst Sonic The Hedgehog on the Genesis established Sega with an actual credible and likeable mascot, it was Sonic 2 in 1992 that took it to new heights.
With the introduction of a second playable character in the form of Tails, Sonic 2 introduced 2 player modes in either full-screen or split-screen.
Everything about Sonic 2 was bigger and better, the levels, the visuals, the awesome soundtrack and the additional mechanics added to the game.
Arguably the best Sonic game even to this day, Sonic 2 was certainly when the game series peaked for Sega, not necessarily in sales, but in terms of gameplay and design.
Do not miss out on playing through this classic, it's one of the best Genesis games ever made.
Other Top Genesis Games For RetroPie
Road Rash 2
Streets Of Rage 2
Toejam & Earl
Golden Axe
Teenage Mutant Ninja Turtles: The Hyperstone Heist
Best SNES Games For RetroPie
Super Mario World
The follow-up to Super Mario Bros. 3 had a hard act to follow, but what better time to release a brand new Mario game, than with the launch of Nintendo's new console, the Super Nintendo.
Super Mario World takes the ingredients of its predecessor and enhances the visuals, audio and takes the gameplay to a new level.
The SNES blew the NES out of the water in terms of visuals and audio, and Super Mario World was the perfect showcase for its power. It also ended up being the best-selling game on the SNES.
As mentioned earlier, many in retrospect consider Super Mario Bros. 3 to be a more enjoyable game if you take away the graphical and sound improvements, but Super Mario World is a must-play for the SNES.
Other Top SNES Games For RetroPie
Star Fox
F-Zero
The Legend of Zelda: A Link to the Past
Street Fighter II Turbo
Pilotwings
Best Amiga Games For RetroPie
Sensible World Of Soccer
Not particularly known outside of Europe, the Sensible Soccer series of games peaked in 1994 with the release of Sensible World of Soccer.
Not only did SWOS include all of the classic Sensible Soccer gameplay mechanics, but the team roster was bumped up to over 1,500 teams and 27,000 players – A huge feat for a game, squeezed onto the simple floppy disk!
Not only was there a huge increase in the number of teams, leagues and competitions players could compete in, but there was also now a complete manager mode included, so you could choose to either be hands-on and classic SWOS style or to be the manager and sit on the sidelines directing your team to victory (or a crushing defeat!).
One of the best Amiga games and one which always felt most at home on the Amiga.
Other Top Amiga Games For RetroPie
Speedball 2: Brutal Deluxe

Cannon Fodder

The Secret of Monkey Island

Another World
Stunt Car Racer
Best Game Boy Advance Games For RetroPie
Advance Wars
The Game Boy Advance continued the Nintendo handheld console tradition of serving up some of the very best turn-based strategy games, and Advance Wars is up there with the very best of them.
The object of the game is to simply defeat the opposing army. This can be achieved by either destroying all of the enemies' units or by capturing their HQ. Becoming familiar with all the different types of units at your disposal is key to developing strategies to defeat the enemy.
An excellent game in single-player, but the original also allowed the use of the GBA link cable for multiplayer.
A hugely enjoyable handheld classic!
Other Top Game Boy Advance Games For RetroPie
WarioWare Twisted!
Metroid Fusion
Mario Kart: Super Circuit
F-Zero: Maximum Velocity
Best N64 Games For RetroPie
GoldenEye 007
Released in 1997 by Rare, this first-person N64 shooter has legendary status these days!
Aside from being probably the best James Bond licenced game to ever be released, Goldeneye really did give you the feeling of being James Bond, with its excellent soundtrack and gameplay mechanics.
Where Goldeneye really shines though is its multiplayer mode where up to four players battle each other in a deathmatch-style game.
Battling to get hold of the golden gun or complaining because somebody kept playing as Odd Job and wiping the floor with everybody, there is no lack of nostalgic memories for this classic N64 game.
Other Top N64 Games For RetroPie
Super Mario 64
Mario Kart 64
F-Zero X

Super Smash Bros.

The Legend of Zelda: Ocarina of Time
Best MAME Games For RetroPie
Super Street Fighter II Turbo
You could pick most iterations of Street Fighter II and place them in a best games list to be fair, but Super Street Fighter II Turbo is a great balance of old and new Street Fighter II.
Including 4 brand-new characters (at the time at least!), it changes the dynamics up somewhat by having new characters moves to learn and use them to your potential advantage.
Super Street Fighter II also introduces a new scoring system that tracks combo moves, reversals, recoveries and first attacks, so is more in line with modern street fighter games, but still with many of the classic SFII mechanics.
This was the final version of Street Fighter II but with maximum intensity!
Other Top MAME Games For RetroPie
Track & Field
Galaga
Out Run
Bubble Bobble
Smash TV
Best Neo Geo Games For RetroPie
Neo Turf Masters
A golf game making it into a best games list? Yep, and for good reason too!
In my view, Neo Turf Masters bridges the gap between golf and arcade gaming. It's the perfect blend of a hugely infuriating sport and wacky Japanese visuals, sound and classic arcade gameplay.
The key is that the gameplay is super simple, with basic mechanics being applied so that anybody can play without even understanding much about the game of golf.
This is still one I play regularly to this day, a perfect single and one of the best 2 player games to relax with!
Other Top Neo Geo Games For RetroPie
Metal Slug
Windjammers

Neo Bomberman

Pulstar
Shock Troopers
Best PS1 Games For RetroPie
Metal Gear Solid
Hideo Kojima's cinematic masterpiece for the original PlayStation.
Metal Gear Solid proved every bit as good as the hype suggested when it was released in 1998.
You play as Solid Snake, infiltrating a nuclear facility to take out a threat from the terrorists from a renegade special forces unit called FOXHOUND.
The gameplay promotes primarily the use of stealth to navigate your way around levels, but the use of hand-to-hand combat and weapons has to be used to get yourself out of some sticky situations!
A real treat to play back then and still holds up today. One of the best PS1 games of all time without a doubt.
Other Top PS1 Games For RetroPie
Gran Turismo 2
Tony Hawk's Pro Skater 2
Wipeout 2097
Resident Evil 2
Tomb Raider 2
Best PSP Games For RetroPie
Lumines: Puzzle Fusion
In the same way, Tetris was a huge hit on the Game Boy, Lumines: Puzzle Fusion was widely loved on the PSP, although admittedly not with the same huge sales volumes as Tetris!
Lumines: Puzzle Fusion was released in 2004 and is a puzzle game where the basic aim of the game is to match 2×2 squared blocks of the same colour.
With the same addictive hallmarks as Tetris, Lumines: Puzzle Fusion brings its own mechanics to the table as well as an excellent soundtrack, to help you zone out and focus on the increasing difficulty as you progress through this challenging puzzler.
A must-have for PSP fans and for your Retropie setup.
Other Top PSP Games For RetroPie
Lumines: Puzzle Fusion
Wipeout Pure
Grand Theft Auto: Vice City Stories
Metal Gear Solid: Peace Walker
Gran Turismo PSP
Best Dreamcast Games For RetroPie
Shenmue
Shenmue is considered one of Sega's last great moments, especially since it was launched on their final console, the Dreamcast.
Aside from being a largely open-world experience, Shenmue is all about the atmosphere and story.
You won't find non-stop action in Shenmue, but instead a slow-paced and immersive world, full of characters and mini-games to keep you engaged.
There are plenty of battles to be had as you pursue your father's killer as the story progresses, but the real charm is the left-field gameplay and pace of the game.
Absolute classic Sega, a game that makes you think what could have been had the Dreamcast had the success it should.
Set aside a whole evening to get fully immersed in this Dreamcast classic for your Retropie.
Other Top Dreamcast Games For RetroPie
Soulcalibur
Sonic Adventure 2
Skies Of Arcadia
Crazy Taxi
Daytona USA
A lifelong avid gamer and computing enthusiast, Matt has decades of Retro Gaming experience. Now over 40 years old, Matt now even considers himself retro, but fortunately, nobody has developed a Matt emulator (not yet at least!).