The Game Boy Advance is one of the most successful handheld consoles ever, and what better place to play your favourite GBA games than on your Android phone or tablet. GBA emulation is quick and easy with these excellent GBA emulator Android apps.
We recommend the very best GBA emulators for Android, as well as some useful peripherals to make playing Game Boy Advance games on your Android phone and tablet, much more enjoyable.
1. My Boy!
My Boy! Is a hugely popular GBA emulator for Android devices with over 1 million installs. My Boy Is well known for its standards of emulation and configuration options, My Boy! is one of the best GBA emulators and is our number one pick on this list.
My Boy features GBA link cable emulation. This is a feature loved in particular by Pokemon players, which makes My Boy particularly unique.
There is a free version of the app, but if you want the full experience, there is a paid version of My Boy available. But if you are a Game Boy Advance fan and seeking an excellent GBA Emulator for Android, you must consider My Boy!
My Boy! Features Include:
Excellent Game Compatibility – Play virtually any GBA game with no issues
Link Cable Emulation – Play multiplayer games via Bluetooth or WiFi
Gyro/Tilt/Solar & Rumble Emulation
Cheats Functionality Built In
Video Filters & Shaders
On-Screen
Controls or Use Your Own Bluetooth Controller
Easy To Use Interface
2. Pizza Boy GBA Basic / Pro
Pizza Boy GBA is a more recent addition to Game Boy Advance emulation apps on the Google Play Store but has quickly amassed a large fanbase with the app averaging almost 5 stars on the Google Play Store.
This is one of the slicker GBA emulators out there, it looks excellent, emulates Game Boy Advance games wonderfully, and has a really good range of features, even in the free basic version of the app, including, slow motion/fast forward modes, video shaders, save states as well at network multiplayer options.
Pizza Boy GBA Basic is available for free, whilst Pizza Boy GBA Pro is a paid app, but in return, you gain access to a richer set of configuration options such as custom skins, save game syncing, and removes ads.
Pizza Boy is another one of our go-to GBA emulators, this is a top-tier Game Boy Advance emulator for Android.
3. ClassicBoy Lite / Pro
Classic Boy is a multiple-system emulator that includes Game Boy Advance emulation as well as Sega Genesis, NES, PS1, and Game Boy / Game Boy Color.
If you are looking for a convenient way to play retro games across a number of systems, then maybe consider ClassicBoy as your emulator of choice. It includes hardware controller support, save states, game speed settings as well as cheats by using cheat codes.
ClassicBoy Pro offers additional features such as save states that enable you to resume gameplay from auto-saves and slot-saves, gesture controls, and sensor controls as well as accommodating additional plugins.
4. GBA.emu
GBA.emu is an Android GBA Emulator by Robert Broglia, who has also developed a number of other Android Emulators for Retro Systems, all of which are well regarded. It is now a paid app, but one which over 1,500 reviews and an average of over 4 stars out of 5.
GBA.emu focuses on achieving low audio & video latency performance and includes cheat code support, on-screen and hardware controller support.
5. John GBAC
Previously known as John GBA, John GBAC is a simple-to-use Game Boy Advance Emulator for Android phones and tablets. It has a decent amount of functions built in, including options for cheats, and cloud file support for saving config and save data.
John GBAC also has hardware controller support built-in, perfect for playing your games in a more authentic way with a Bluetooth controller for your Android device.
John GBAC is a free app but has ads built in, but these can be removed via an in-app purchase.
6. Nostalgia.GBA
Nostalgia.GBA is a really good GBA emulator if you are looking for solid performance. Nostalgia.GBA is based on the mGBA emulator, Nostalgia.GBA ends up being one of the best-performing GBA emulators on Android.
it contains all the usual features found in emulators such as save states, hardware controller support, rewind functionality, and cheats.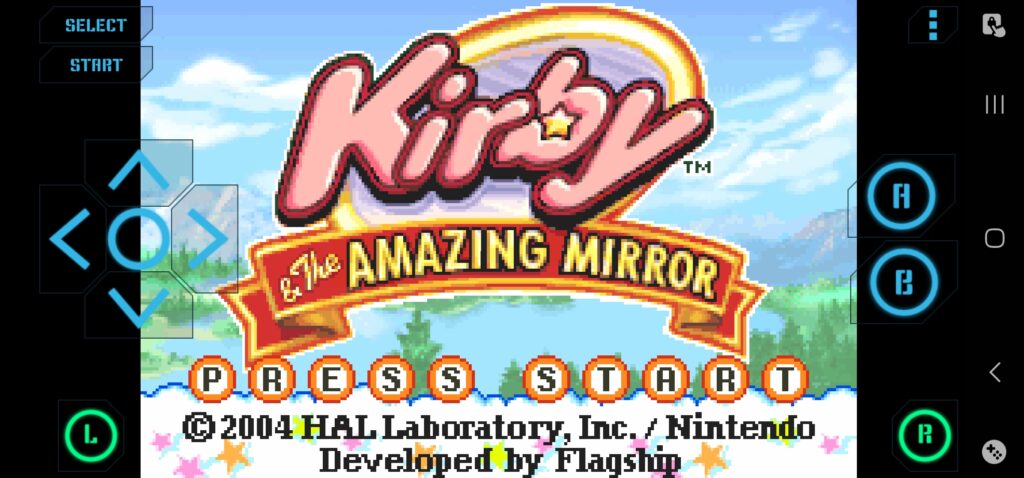 The free version contains ads, but these can be removed by purchasing the pro version.
7. VGBAnext
VGBA next is a Nintendo fan's dream. It emulators a range of Nintendo consoles including the NES, Game Boy, Famicom Disk System, and of course the Game Boy Advance.
It emulates a range of features including tilt sensors, light guns, and vibration packs. There is no need for any BIOS files and supports a range of hardware controllers. It even has rewind capabilities, that let you rewind gameplay up to 16 seconds back, perfect to retry that awkward jump or end-of-level boss!
Whilst not perhaps as refined as some of the dedicated GBA emulators, VGBAnext is feature packed and offers a lot of mileage if you are a retro Nintendo fan.
8. RetroArch / mGBA Core
As for the best universal GBA emulation solution, RetroArch once again saves the day!
The mGBA core also allows you to play Game Boy, Game Boy Color, and Game Boy Advance games. This is my multi-system emulator of choice. RetroArch offers so much configuration across a huge range of emulator cores. The GBA runs perfectly with the mGBA core and looks even more authentic when you apply one of the really cool LCD shaders bundled with RetroArch.
Another popular request for GBA emulators is the option to speed up emulation, in particular with Pokemon players where there are a lot of sections of the game players who want to speed up to skip past – RetroArch has you covered here with its fast-forward mode!
The mGBA core also once again is my go-to core for RetroArch Game Boy Advance emulation.
The Final Word On GBA Emulators For Android
So as you can see, if you are looking for the best GBA emulators for Android, you are spoilt for choice!
Our recommendations are My Boy! and Pizza Boy for the best GBA emulator Android apps, but if you are looking for a great all-rounder, then stick with RetroArch. The mGBA core can't be beaten in terms of accuracy and performance, plus you get to benefit from all the additional features RetroArch has to offer.
If you are looking for the best way to play the best Game Boy Advance games on the PC, then check out our best GBA emulators for PC article, or for more handheld and retro emulators, check out our guide to emulators for more inspiration on what to play next!